"I've got a rose between my toes from dancing barefoot through the hot house to you, pretty baby."
Received lovely greetings from the folks at Lemon Queen Public Relations Council in France on behalf of Qatar Airways Cargo with numbers that flower even greater as time goes by.
For Valentine's Day, Qatar moved 4,000 tons of flowers in just two weeks from mainly Ecuador and Colombia in South America and Uganda and Kenya in Africa to 5 destinations including USA, Amsterdam, (of course) the Middle East, Japan and Australia.
Qatar added flights to meet demand.
Of course flowers cube out before they weigh out, so 10 blooming B777s additional to the sked from Nairobi to Liege, and the same Quito to Amsterdam and Miami looked like everything came up roses!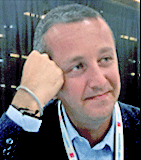 "We are proud to put our expertise and efficiency at the service of our customers," said Guillaume Halleux, Chief Officer Cargo.
"As the launch of our Next Generation Cargo focus last Summer progresses, 'Moved By People' puts its best foot forward.
"The future is in every decision we take—be it in technology, sustainability, diversity, the new generation of employees joining our company, our products and services, and how we approach our business in general," Guillaume said at last summer's launch.
"We are shaping the air cargo industry of tomorrow—one that combines digital efficiencies with a unique, professional human touch."
So far taking a fresh, innovative approach to the business of air cargo is unique for Qatar Cargo.
They are the class-act air cargo trend setter in the world today.