This year, International Women's Day (March 8) is centered on the theme of #EmbraceEquity.
March is also Women's History Month in Australia, the United States, the United Kingdom and is a time to celebrate and recognize the amazing contributions of women throughout history.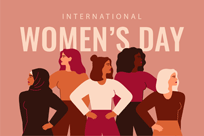 Qatar Airways Group celebrated its staff with a week-long series of masterclasses, networking opportunities, and interactive tours of its various facilities curated for its female workforce in the week leading up to International Women's Day.
Qatar Airways Cargo, all into the spirit of celebration marked March 5 as the day of its first-ever all-female freighter flight.
A giant Qatar B-777 freighter from Doha to Shanghai was operated entirely of a crew of made up of women.
From the ground staff overseeing and handling the cargo, to the flight deck crew operating the flight, this is the first time a Qatar Airways Cargo freighter aircraft has operated with an all-female crew and all-female ground staff.
"This is our once-a-year day" was one reaction.
"Feel like jumping up and down in celebration!" was another.