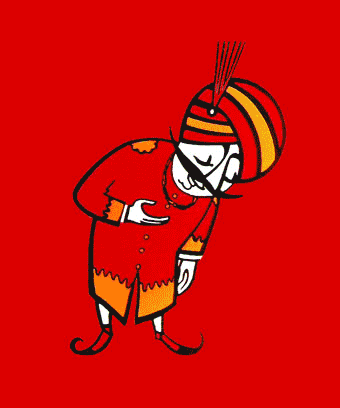 Air India's Maharaja has been the carrier's oldest and best-loved mascot. Sporting a striped turban, a big mustache, traditional churidar kurta (narrow trousers and a long shirt) and pointed mojris (slip-on shoes), the Maharaja was created back in 1946 by the carrier's then commercial director Bobby Kooka and Umesh Rao of J. Walter Thompson.
Kooka always remembered his creation with love.
In an article, he mentioned that the Maharaja had been so named "for want of a better description.
"But his blood isn't blue.
"He may look like royalty, but he isn't royal," wrote Kooka.
The Maharaja made its first appearance – not as a mascot – but as an appendage to inflight memo pads.
He was instantly liked and over a period of time came to be associated with grace and luxury.
To top it all, his fancy clothes, his eyes displaying satisfaction and contentment won a lot of hearts.
Through the years, the slightly portly Maharaja has not only appeared in a large number of attires but also taken on different personalities—from a Parisian painter, a sumo wrestler, a Spanish matador and even a Texan oil tycoon—to announce Air India's new destinations and flights.