Headlining the world of trade show meetings in air cargo this month The International Air Cargo Association (TIACA) is at Brussels Airport with its Executive Summit 2023 this week November 6-8, at the historic Skyhall, former airport terminal.
TIACA, for many reasons, is very close to our heart for all the years we have been in air cargo dating back to when the organization was founded by the Society Of Automotive Engineers; it was then known as International Air Cargo Association (IACA). When the Automotive Engineers packed it in, TIACA was put together by a great group of people from the air cargo industry.
Throughout the years, the makeup of the membership from all over the world and every form of our industry has made TIACA the best hope for all of organized air cargo.
IACA and TIACA have had the uncanny ability, call it good luck for sure to get the right people to manage this very large and diverse membership that continues to broaden in time.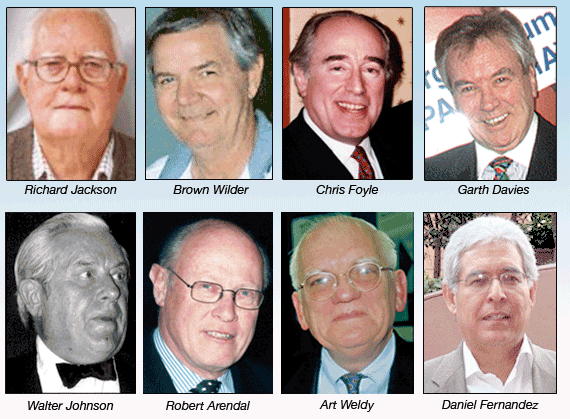 Back when it was called IACA, the industry executive that held things together during IACA's later years was John Emery, Jr. At one point, when John had the great John Mahoney, as advisor up at Emery HQ in Wilton, Connecticut and who trained many of the great minds of modern air cargo, leaned in to make IACA soar. Art Weldy was the guy for decades at IACA, who kept the Air Cargo Forum flying high for so many years, it could make you cry.
When TIACA went into business it was Garth Davies serving as Secretary General, who chaired the meetings with Walter Johnson as the resident brain of all things air cargo, full of ideas, hopes and dreams for TIACA. Later Daniel Fernandez, with his calm, always decent demeanor and rock solid dedication and conviction to do the job right, served as the second SG at TIACA. When Daniel left the organization, he made sure there was a strong team in place.
Today Glyn Hughes assumes responsibility for all things TIACA.
Glyn retired from his post as Head of Cargo at IATA and moved easily in as Director General three years ago this month in 2020.
Glyn has infused TIACA with the same spirit that people like Bob Arendal, Chris Foyle, Brown Wilder, Dick Jackson and so many others had, to lift the organization.
So with Glyn at the helm, we can report the TIACA flight of fancy this week looks to be in good hands with all kinds of great people. The value of TIACA in 2023 is the diversity of its members. No other organized air cargo group can boast that asset.
Here up close and personal Marco Sorgetti gets down to business with Glyn.
GDA


FT: What does the organization have to offer next generations and beyond?
GH: A great question to start as the next generation is crucial for the relevant evolution of the entire logistics and air cargo industry. As global society evolves so will production and consumer trends and its imperative that every impacted industry has the capabilities to react and adapt as trying to address 2025/2030 needs with 1990/2000 solutions won't work. So we must attract the leaders that reflect the society that is being created. The TIACA Board has placed this as a high priority and we have engaged in a number of initiatives to support this objective. We introduced a "bring a colleague under 30 for free" to our events, we have increased outreach and engagement with academic institutions to promote logistics before future leaders take career decisions, we are an active member of Generation Logistics a program supported by the UK government to attract the next generation into logistics, we have been asked to join a global initiative spearheaded by ACI and a number of states to address the growing need for the future workforce and we provide networking opportunities for next gen leaders to meet each other as well as current industry leaders.
We also like to support other great initiatives such as the FIATA Young International Freight Forwarder of the Year program and the IATA FACES program.

FT: Impression is that you are applying greater control over TIACA activities. If so would you outline what is ahead?
GH: The most successful organizations are those which are the most aligned and one of the things that attracted me to join TIACA was the successful transformation process that they had completed which incorporated a new vision and strategy to take the association forward with even greater success. I have the great privilege to execute that strategy. We are a small association and work very closely with the Board and executive leadership to ensure we deliver to their expectations.
Membership has grown quite substantially over recent years and we have introduced regional events and regional representatives to ensure TIACA is engaged with our members and the entire industry across the globe. We have increased our programs in the area of sustainability, conducting an annual industry survey which leads to the production of an annual insights report. We have produced an industry sustainability Roadmap and that is supported by our recently launched Blue Sky Sustainability assessment program. We have some exciting plans upcoming to support the industry further with sustainability solutions as well as looking at supporting industry training needs. Our flagship event, the Air Cargo Forum has found a permanent home at the Miami beach convention center and following the successful 2022 edition which attracted over 220 exhibitors and over 3,000 attendees we are gearing up for an even more successful 2024 event.

FT: Please describe TIACA agenda and meetings for the remainder of 2023?
GH: The aforementioned Air Cargo Forum occurs every two years and in the intervening year we hold the TIACA Executive Summit which this year will be held in Brussels from November 6-8. The Summit agenda is designed to encourage industry debate on challenges, opportunities and industry responses and the outcomes will lead directly into TIACA priorities and activities for the following period. We will focus on digitalization, trade development, ecommerce, drones, next generation workforce, regional issues, airport developments, sustainability plus many other topics.
We will also feature the final presentations of our 2023 Sustainability Awards where the audience will ultimately select the overall winner. And one of the highlights will be the 2023 TIACA Hall of Fame inductee ceremony where Jean Claude Delen, an industry pioneer and leader will join an already spectacular list of industry luminaries. Of course there will also be a multitude of networking opportunities which will feature a live band and the best of Belgium hospitality courtesy of our great host, Brussels Airport. And of course some surprises.

FT: Why after an admired and distinguished lifetime at IATA did you pick up the sword for TIACA.? What made the challenge seem doable?
GH: A fantastic question. I had the privilege of spending 30 years at IATA and built some great relationships with some wonderful people but like all good parties or meals they come to an end. I felt it was time for a change. IATA Cargo supported the industry spectacularly well during Covid which was a testament to that great team but I didn't feel the organization in general was heading in the right direction. A trade association has a privileged position of supporting its members and the broader industry it represents. Collaboration is the key ingredient to success. But I didn't leave to specifically join TIACA. I was weighing up several different directions before the TIACA opportunity arose. They had a number of highly qualified candidates for the DG position and I was very fortunate to be selected.
I had worked closely with TIACA throughout my career so I had a high degree of respect for the organization and its role within the industry. But as mentioned previously it was the new broader strategy and desire to be an agent of positive change which ultimately inspired me to join.

FT: Give yourself a report card. What surprised you about TIACA?
GH: I am without doubt my harshest critic and i always feel I could do better. I think the first 2.5 years have gone well but I wish I had been able to go faster. What surprised me was how amazing the team in Miami are. Rachael and Kenneth are the heart and soul of the organization. I was also pleasantly surprised with how engaged and supportive the Board is. They take an active role in the association and we are much the better for their engagement.

FT: Do you feel that you are where you want to be with TIACA?
GH: Nearly . . . I would say we have made a great start but much much more needs to be done.

FT: What do you wish you had done differently?
GH: Wow . . . a very interesting question. In life I can say MANY things I wish I had done differently, too many in fact to write about but in my 2.5 years at TIACA so far I think I probably should have bought a new joke book as I am often reminded that my jokes haven't changed since last century. But on the work front I am actually very pleased with the direction we have taken.

FT: What else will be done?
GH: We have a very ambitious plan for the next 2-3 years including expansion of the BlueSky program, the development of industry white papers, the expansion of our support of international bodies, the increased spotlight on industry innovation, more programs to support next generation workforce challenges, increased tools to support positive climate action and training accessibility. We will also increase our regional representation and continue our local and regional out reach.