As winter 2023-24 approaches there are a blizzard of trade shows going on in the next two weeks.
Here are some pictures from Air Cargo Americas in Miami that took place this week just off the main runways of the airport.
From the exhibit side it was much more laid back compared to pre-covid. A lot of talk about business opportunities and more talk about IT development and how to handle e-commerce.
The focus on Latin America was more aligned with international cargo in general.
Lots of people in the business, who had been where they were for years and some who had moved to new positions within the industry were reconnecting.


1. Of course American Airlines Cargo was there in big force. Here from left to right are Fabiola Portes-Cruz, Lorena Sandoval, Indy Bolina and Teresita McConney. 2. We also note Air Canada Cargo was evident with Janet Wallace in attendance, pictured here with the great Mike White. AC put on freighters last year only to see a major dent in their business reported recently. We hope they can stay the course . . . 3. AGI Warren Jones looks like "The Good Life" and gets our vote as looking "Miami Comfortable" as Fall turns into Winter 2003. AGI offers ramp services at ATL, EWR, FLL, JFK, LAX, MIA, ORD and SFO gateways. 4. Tony Perez, Cargo Sales Manager, Aerolineas Argentinas was happy to talk up his carrier and services. 5. The Amerijet booth in all its splendor.
Came across this listing this week. "Transport logistic Americas 2023
International Exhibition for all areas of logistics and the air cargo industry
Dates: TBD, Venue: United States."
Then upon further search found a similar listing for what may be the same show taking place next year In Panama.
What's up in Panama? Both FIATA and Translogistic apparently find the grass greener over there in 2024.
Speaking of green grass, Asia saw yet another Transportlogistic November 1-3 in (where else) Singapore being held on the exact days that Air Cargo Americas was taking place.
On the ground in Singapore, Mike Oslansky, who is representing United Cargo in SE Asia through their GSA partner (WAG Group) in Vietnam, Thailand, Malaysia and Indonesia reports, "Very well attended event in SIN this week. My first time here and I was very pleased to see the turnout.
"Never heard anyone talk about past or even current market conditions. Everyone is fully focused on the future!
"Southeast Asia is poised to explode over the next decade.
"This is truly one of the greatest markets in the world," Mike said.
As a Vietnam veteran having been there in the shit, and now an old man, I am just waiting for the day we get to go back to Nam.
Despite the other thing Saigon, Cholon and parts of that country and its people were especially fine.


Too many trade shows?
Actually the events that had everybody gathering and hugging and kissing after the lockdown have seen attendees thinned out a bit, which many thought would happen.
The airlines have put on their brakes and for most events are basically just sending local people to walk around.
The Middle East Airlines seem to be highspotting and in a major reversal, Qatar does not seem to be in a lot of shows since Guillaume Halleux packed it in with the airline, but elsewhere United Cargo had a booth at Orlando NDTA, as reported earlier.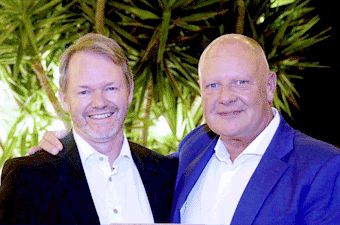 Lufthansa Cargo, which has lost wunderkind Achim Martinka to DSV (he is pictured with DSV CEO Carsten Trolle, in photo right), AF/KLM, British, Virgin, don't seem to be anywhere near their sizeable impact in stand size and people as they were in the past.
While we are not encouraging Virgin to bring back girls swinging back and forth on a trapeze in their booth, it would be nice to see what's left of all of us face-to-face.
Maybe everyone has just decided they have heard that conversation about sustainability one time too many?
How about AI that everybody seems to be adding to their forum session as few in the audience at this point have the slightest idea what AI means?
Today comes TIACA in Brussels.
Somebody should give TIACA DG Glyn Hughes a 'profiles in courage' award, (see story above). He is like the Eveready battery bunny—"He just keeps going."
There is another Logitrans German event at Istanbul Logitrans Turkey November 15-17, held at IFM part of World Trade Center out near Ataturk Airport. First met Turgut Erkeskin and UTIKAD there. Turgut has just assumed command of FIATA, the biggest and greatest air freight forwarder organization in the world. In 2016 at a grand dinner in a six hundred year restaurant in Zurich, Switzerland I became the first FIATA Fellow in FIATA's 95-year history.
No doubt when Turgut makes an appearance at Logitrans Turkey this month we can all throw flowers at his feet with our congratulations and good wishes as we celebrate.
Elsewhere those big numbers of people and also airlines at trade shows, and those techies that had been lurking the aisles, and even the usual suspects, judging by numbers around the world are likely waiting for the business slump and the scary world conflicts to lessen or even better, be over.
Have a good show and travel safely home.
GDA