All kinds of air cargo trade shows everywhere in the world as the calendar moves along, but for our money, the Air Forwarders Association (AfA) or "The Brandon Fried Event," that was held February 10-12 in La Vegas delivered just the right blend of people. These people make the going great for our industry by working diligently in advancing all aspects of the form.


Just One Look

Just one look at the picture at the top of the page underscores the point that there are hands on people, out to accomplish good, in every aspect of the transportation business, including within the organized U.S. air forwarding group,
Brandon Fried, the one-man dynamo who lights up the room is the one person heading an organized air cargo group, who expresses a real time welcome to all, by providing a venue and program that matters to people that make cargo go.


Grand Turnout at AfA

"Judging from over 800 people in attendance this year and reviewing our post-conference survey results, AirCargo 2019 was a great success," Brandon told FlyingTypers.
"Attendees gave high marks for the quality of networking, exhibits, and programming that featured lots of useful information on TSA programs, airport freight handling, trucking issues, e-commerce shipping and much more.
"FlyingTypers often refers to our event as the "conference for everybody else," Brandon smiled, "but in truth you could not have described it better.
"Afa Air Cargo continues to be a great venue, and people love to attend."


Mike White At AfA

Little wonder, that amongst the attendees at AfA Las Vegas this year along with Brandon, was a kindred spirit in thought, Mike White, President of Cargo Network Services (CNS).
CNS, by the way, holds its annual Partnership Conference "E-Commerce Revolution" In Miami May 3-5 at Doral National.


20/20 on 2020

"Next year, when our annual conference leads off the industry trade show season January 26-28, in Nashville, Tennessee we fully expect to bring even more industry people together adding numbers to the more than 800 lively and engaged conferees that participated at this year's event," Brandon Fried declared.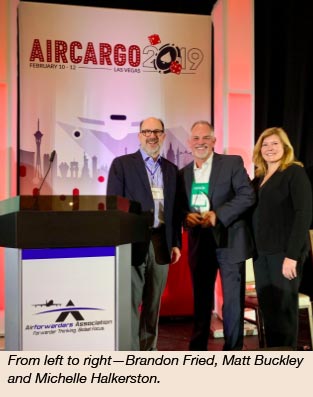 Jim Foster Award

One of the activities that underscores the value of AfA, is their annual Jim Foster Award that was presented at this year's event, posthumously, to Herb Kelleher, Southwest Airlines founder.
Jim Foster was a man who worked for more than 20 years in the air cargo industry.
After working both sides of the fence in air cargo, Jim recognized the need for a unified industry voice representing air forwarders on the important issues of the day.
So, in 1990, Foster founded the Airforwarders Association, which grew to over 200 members worldwide, under his leadership.
"We were especially pleased to recognize the excellence of Herb Kelleher," Brandon said "and that former Southwest Cargo Director Matt Buckley, accepted on behalf of Mr. Kelleher."
"We are honored to recognize both men.
"Matt Buckley is a gem of a guy, who we wish well in his retirement."


New Officers At AfA

"AfA also welcomed new leadership to the Afa in Las Vegas with the election of Michelle Halkerston (Hassett Express) as Chairman, Glen Hall (ALG Worldwide) as President, Jennifer Frigger Latham (EMO Trans) as Vice President, Sandy Gregory (Flexport) as Secretary, Kirk McCann (Transgroup) as Treasurer and Richard Fisher (BTX) as member-at-large.
"These people are a competent group of highly experienced and energetic leaders that will propel our organization into an exciting future."


The Airforwarders Association Mission 2019

"As for the Airforwarders Association, our strategic vision for 2019 remains clear, featuring ongoing engagement within various regulatory agencies in Washington and lawmakers on Capitol Hill.
"We especially look forward to working with TSA in providing feedback to its industry security programs and of course, the newly introduced Third-Party Private Canine Screening Program (3PK9).
"A recently formed Congressional Air Cargo Caucus is getting our attention, and we look forward to educating Members of Congress on the importance of the industry and providing site visits of various Airforwarders Association member facilities throughout the country," Brandon Fried declared.


March Into Airport Truck Congestion

"An important AfA initiative for 2019 is our ongoing engagement with airports on the truck congestion issue throughout the country.
"I plan to discuss the topic at the Los Angeles Air Cargo Association's monthly luncheon on March 7th and again at the JFK Air Cargo Association's Air Cargo Expo on March 28th.
"Afa is also planning a Town Hall meeting in Los Angeles on September 24th that will work to advance solutions to truck congestion and other issues challenging air cargo at LAX," Brandon promised.
Geoffrey