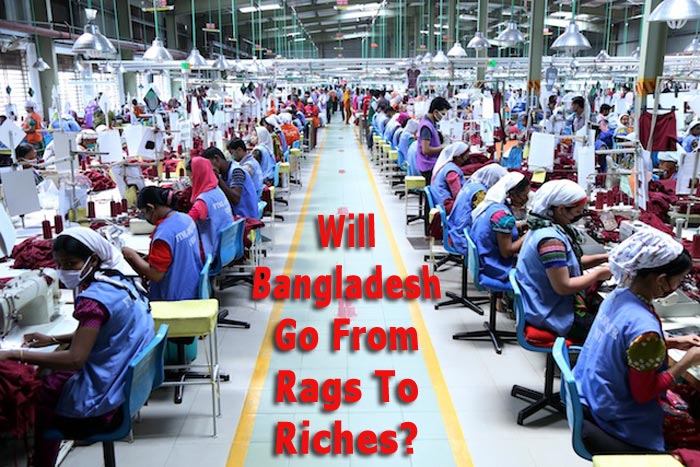 Here in New York City, the wholesale end of ready-to-wear clothing is affectionately referred to as "The Rag Business" or at least it was when I worked there in the late 1960s, just back from the Vietnam War.
Today, piece wear manufacturing (garment pieces that were stitched together) has moved from the garment district between 34th and 42nd Street on the West side of Manhattan to Asia and India.
But as the constant is always in some kind of change, RMG (readymade garments) may be moving again, as TG reports from Dhaka, Bangladesh.

Bangladesh has been facing serious problems in the export of readymade garments (RMG). For the small nation, it is a huge problem simply because it is the second biggest manufacturer of RMG.
The biggest hindrance export cargo from Bangladesh faces is not merely the lack of flights from Dhaka airport, otherwise known as Hazrat Shahjalal International Airport (HSIA), but the fact that the airport has often been scored for its lax security.
To further complicate matters, the airport faces capacity constraints, which lead to higher shipment costs.

Dhaka Not Cargo Friendly

Dhaka Airport, according to local freight forwarders, receives more than 1,000 tons of goods a month, mostly garments.
However, airlines can only lift 700 tons. As a result, there is always a huge backlog of garments.

Kolkata Cleaning Up

Security at HSIA has improved considerably over the years. There are reports that the recent security audit by the International Civil Aviation Organization (ICAO) found no major security loopholes.
The high cost of exports from Dhaka has forced exporters in Bangladesh to seek alternative gateways like the one in neighboring Kolkata, India to send out their goods.

Dhaka Price Restrictive

According to reports from Dhaka, while it costs Tk 5 per kilo ($1 is equal to Tk 84) to send goods by air from Bangladesh to Europe, it costs only Tk 3.5 per kilo to use the Dhaka-Kolkata-Europe route.
This involves goods travelling from Bangladesh (by road) to the border, physically transferring to trucks on the other side of the border before reaching a foreign airport, and then being airfreighted to European destinations.
A successful pilot was carried out by the Colombo-based EFL. Talking about the move, a spokesperson from EFL said that, "the idea to handle the cross-border transshipment of cargo from Dhaka to New Delhi via Kolkata originated when the governments of Bangladesh, Bhutan, India and Nepal (BBIN) initiated the Motor Vehicles Agreement (MVA) agreement on June 15, 2015."
India later initiated discussions to facilitate the free movement of vehicular traffic between the four countries under the BBIN project. After the first trial run piloted by the EFL group, Bhutan and Nepal opted out of the agreement.

The Third Country Via India Scheme

"With the continuous challenges faced at Dhaka airport including space constraints, EFL conceptualized this idea and was able to facilitate a successful pilot run of cross-border transshipment to a third country with support from several government officials in India including the Indian and Bangladeshi customs," said a spokesperson from EFL.
What made the move easy was the fact that regular Imports/Exports take place between India and Bangladesh through Petrapole in India and Benapole in Bangladesh, by road.
This prompted EFL to extend support to "our global customers in moving their cargo from Bangladesh to a Third Country via India as transshipment cargo."
It was back in August 2016 that EFL liaised with government authorities in India and Bangladesh to facilitate the pilot run. At that time, a bonded cargo truck with an electronic seal from an authorized vendor of customs (Asian Development Bank) departed from EFL's Tongi warehouse in Bangladesh.
It moved to India after clearing Customs at the Benapole-Petrapole border. The truck then continued to travel for more than 1,500 km before reaching its final destination, Delhi.
Once this trial run was completed, EFL continued discussions with Indians officials and succeeded in carrying out transshipment for a third country.
The Kolkata trip was the latest move. EFL said that cargo movement was generally governed by factors such as supply and demand, capacity at Kolkata airport and the turnaround time for Customs clearance procedures.

Growing Business

At present, EFL handles a total volume of 50-60 tons per week. Given the current landscape with the entry of a few more freight forwarding players in the market, the tonnages are expected to go up to 500-600 tons a month.
Further, the EFL spokesperson commented that once all exporters from Bangladesh and other global customers importing RMG for their global distribution become fully aware of the facility, tonnages would go up significantly.
Also, as awareness increases, high volumes on this route could be expected since international airlines operating from Kolkata would view this as an additional business opportunity.
EFL presently sends out three cargo flights a week to Europe—mostly Emirates and Qatar Airways—that will be later ramped up to six flights a week.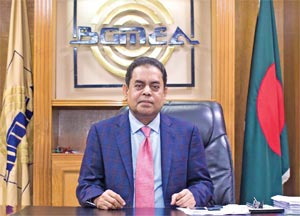 U.S. Plan

There are plans to send apparel cargo to the U.S. if it is commercially viable. The Bangladesh Garment Manufacturers and Exporters Association (BGMEA) have welcomed EFL's success in the transshipment of RMG.
BGMEA President, Siddiqur Rahman said that the move was like "opening up a new window for us." According to officials in Kolkata, the program will run for the next six months on a pilot basis after which some regulations might come up to check diversion of cargo.

Meet Me In The Lobby

For its part, EFL has been lobbying with the governments of Bangladesh and India to introduce truck services between Dhaka and Delhi. That will help goods to be sent to Europe from Indira Gandhi International Airport.
Tirthankar Ghosh