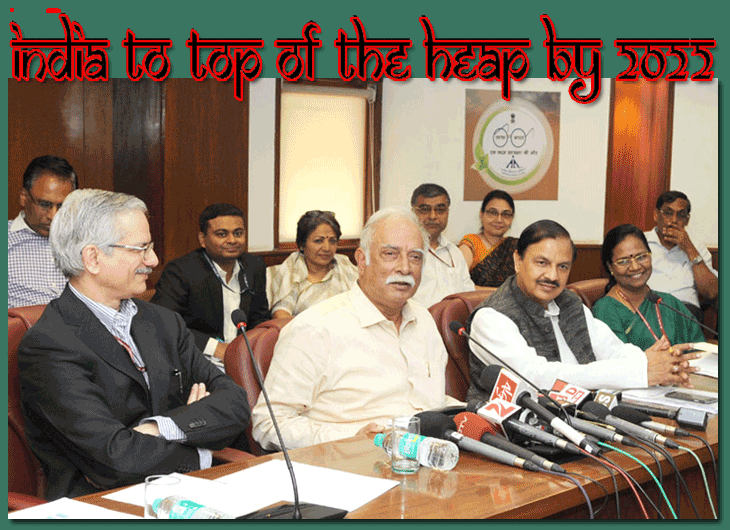 Minister for Civil Aviation Ashok Gajapathi Raju at a press meet in New Delhi. The Minister of State for Culture (Independent Charge), Tourism (Independent Charge) and Civil Aviation, Dr. Mahesh Sharma (on Minister Raju's left); Secretary, Ministry of Civil Aviation, R. N. Choubey (extreme left); and Director General of Civil Aviation M. Sathiyavathy (extreme right) are also in the picture.
India's much-awaited Civil Aviation Policy was recently approved by the Cabinet and made public.
Announcing the policy, which took almost two years to formulate, Civil Aviation Minister Ashok Gajapathi Raju pointed out that India's aviation sector is poised to become the world's third largest by 2022.
The policy states that providing safe, secure, affordable, and sustainable air travel for passengers and air transportation of cargo with access to various parts of India and the world would be the government's mission. Minister Raju has often emphasized the importance of air cargo and the aviation policy specifically looks at that.

First, The Passengers

In an interview with a business daily a few days before the release of the policy, the minister pointed out that in India, aviation was centered on passengers.
"For some odd reasons in India, aircraft are passenger-centric, running like a bus.
"But the largest airline in the world is a cargo airline.
"Here, we only have two cargo airlines." India had a good domestic cargo market, he said, "and with e-commerce volumes going up, there was need for more dedicated cargo carriers."


Hell With Dwell

"Ultimately, transport should not become a bottleneck for economic activity.
"This is what we are trying to achieve," he said.
"Cargo," he underlined, "has a tremendous potential.
"Right now, there is very little cargo going in the belly of aircraft and being exported out of the country.
"The problem is that India's dwell time is not very good.
"So, (our) strategy is to bring down this dwell time.
"We have to work together in the government and try to see that this dwell time goes down," the minister said.

Opening Up The Skies

One of the major policy decisions is whether to grant permission to domestic carriers to fly abroad, doing away with the earlier 5/20 rule (carriers had to complete five years of flying domestic routes and also have 20 aircraft in their fleet).
Now, Indian carriers can fly abroad if they have 20 aircraft or 20 percent of their capacity, whichever is higher.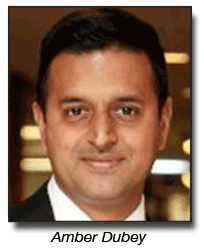 Another decision that has been hailed by experts is one that allows foreign airlines to join hands with overseas investors to set up a fully foreign-owned airline.
A part of the liberalization policy of the Narendra Modi-led government (in fact, Modi had tweeted: "Gov't radically liberalizes FDI regime with the objective of providing major impetus to employment & job creation"), the move, according to KPMG's Amber Dubey, will have a salutary effect on Indian carriers since they "can look for enhanced valuations in case they wish to raise funds or go for partial or complete divestment."
"We may see its positive impact over the next six to 12 months."
He also mentioned that the government had plans to go for a massive improvement in the country's global and domestic connectivity, affordability, and ease of doing business.

Express Council Chimes In

For cargo stakeholders—especially the express industry—the policy is a breath of fresh air. Vijay Kumar, Chief Operating Officer, Express Industry Council of India (EICI), went on record to point out that the government's moves to usher in reforms for the Indian aviation industry was laudable.
"The policy takes cognizance of the distinctiveness of the Express Delivery Services and the potential it offers, also recognizing Express Delivery Services (EDS) as a separate segment within air cargo owing to its distinctive nature and processes," said Kumar, emphasizing that EICI had been advocating such a demand on behalf of the express industry.
The EICI COO also mentioned that the "Express Industry is turning out to be a pivotal segment for enhancing exports, especially in the small-and medium-sized enterprises (SME) segment, in view of expansion of e-commerce and other new age industries.

Make In India & Air Cargo Promotion

With the emphasis of the government on 'Make In India', 'Ease of doing business' and enhancement of exports, it is all the more important that EDS is recognized and facilitated with adequate infrastructure at the airports, with rational lease tenures and rentals to provide efficient services in India.
Other than the express business, the policy has provided a booster dose to the air cargo sector.
To ensure the growth of the sector, cargo facilities located at an airport will be covered under the 'Harmonized List of Infrastructure' and will receive the benefits of the 'infrastructure' sector, enabling air cargo facilitators to avail flexible structuring of long-term project loans, long-term funding from infra- funds at lower interest rates, as well as Income Tax benefits.

Air Cargo Logistics Promotion Board

According to the policy, the Air Cargo Logistics Promotion Board (ACLPB) will play a major role. The board will promote growth by finding ways to reduce costs, improve efficiency, and bring about better inter-ministerial coordination.

Time Tables

The board and the industry have been tasked with submitting a detailed action plan after consultation with stakeholders on how to reduce dwell time of air cargo from 'aircraft to truck' to below 48 hours by December 31, 2016, and to 24 hours by December 31, 2017.
For exports, the dwell time will be reduced to 12 hours by December 31, 2016, and eight hours by December 31, 2017.
In addition, the board will develop non-legal and indicative Service Delivery Modules after consultations with stakeholders for all elements of the air cargo express cargo value chain such as airlines, airports, terminal operators, Customs House Agents (CHA), freight forwarders, and government agencies like Customs, airport security, quarantine officers, etc.
There is also provision to set up an Air Cargo Community System that will avoid delays.
It's important to note the policy has recognized the fact that the space allocated for cargo was inadequate both on the air side and city side at a majority of the country's airports.

ACLPB Hands On Ahead

The ACLPB will recommend norms for space allocation for air cargo, including express cargo for all Greenfield airports. Further, an action plan will have to be worked out by the ACLPB to boost space at existing airports on a "case by case basis" in consultation with stakeholders.

Single Window Access

To ease business processes, the government, says the policy, will ensure that all relevant central government authorities—Customs, wildlife clearance, Drug Controller, Plant and Animal Quarantine, Food Safety & Standards Authority of India (FSSAI), Archaeological Survey of India, etc.—would be available through a single window at cargo terminals, where clearances would be provided promptly and online after necessary checks.
Pointing to the implementation of the 24x7 Customs operations at airports, the policy mentioned it had not been utilized by the industry.
So, the ACLPB will consult stakeholders and propose steps to ensure cargo handling is done round the clock.
The suggestions and recommendations of the ACLPB would be given top priority.
The board has also been given the responsibility to promote Free Trade Warehousing Zones (FTWZ), Air Freight Stations, bonded trucking, and dedicated cargo airports.

Getting Down On User Charges

One of the contentious issues for air cargo stakeholders was the user charges at airports. The ACLPB along with the Airports Economic Regulatory Authority (AERA) and airport operators would recommend competitive user charges. For the non-metro airports handled by the government controlled Airports Authority of India (AAI), the lease and other fixed charges would be kept low to ensure they do not become entry barriers.
The policy has to be implemented to make it a success. Minister Raju felt it was time to sensitize that the opportunity was available and "we need to harness it."
Tirthankar Ghosh