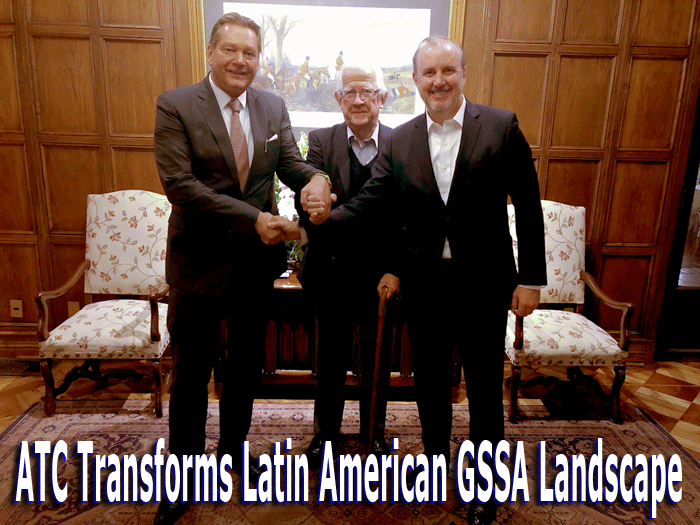 He pulled a rabbit out of a hat when he added Platinum Cargo USA to the ATC brand a few years back. Now Ingo Zimmer does it again in Summer 2018, adding Grupo PFS (Pacific Feeder Services), a leading GSSA in Latin America. Pictured at the signing, left to right—Ingo Zimmer, CEO ATC Aviation Services; Alex Thiermann, Founder of GrupoPFS; Mark Thiermann, Managing Director of GrupoPFS.
Big news this summer as ATC Aviation purchases Pacific Feeder Services. Joining forces will create a seismic shift in the GSSA landscape in Latin America.
To hear ATC CEO Ingo Zimmer tell it, the pair has created "the perfect symbiosis for the South American market."
"Since 1993, GrupoPFS (Pacific Feeder Services) has been a leading GSSA in Latin America with offices in Chile, Peru, Bolivia, and Colombia.
"With a turnover of €350 million in 2017 and 200 employees in 20 countries, ATC Group (member of World Freight Company) is one of the leading GSSAs in the world today," Mr. Zimmer declared.

Three Years To Create

The deal, which was in negotiation for over the past 3 years, was signed last week in Santiago de Chile by Ingo Zimmer and Mark Thiermann (Managing Director GrupoPFS).
"The acquisition of PFS by ATC combines the strengths of both companies and increases global presence," Mr. Zimmer told FlyingTypers.
"Together, we will achieve strong and complementary positions in South America's key export markets, creating a broader and more balanced portfolio.
"This purchase is a further step to complete our mission to become the world leading cargo GSSA," Ingo Zimmer added.

Will Operate Under ATC Umbrella

"PFS and ATC are now one combined company in South America," said Mark Thiermann.
"We will direct all our efforts towards ensuring that our customers will benefit from our new group.
"Current customers of PFS will hardly feel these changes," Mr. Thiermann added.
"Our well-known and experienced team will remain at their disposal and continue business as usual.
"But in addition, customers will benefit from the strengths and reliability of both companies in the future, as well as through the international network with branches in Europe, USA, Canada, Africa, and Asia," Mr. Thiermann said.

Transition Time

"After a transition period of one year, PFS will operate under the globally recognized name of ATC," Mr. Zimmer said.
"Until the transition has been completed, the partners will have a joint presence in the market."

ATC Landscape Takes Shape

Airlines represented by ATC Aviation Services/Pacific Feeder Services in South America are: Aeromexico, Aerolineas Argentinas, American Airlines, CAL Cargo Airlines, Cargolux Airlines, Ethiopian Airlines, GOL Linhas Aereas, Silkway, Korean Air, Peruvian Airlines, Tame Airlines, Saudia Cargo, Royal Air Maroc, and Solar Cargo.

ATC Building World Brand

"Targeted expansion of international business with a forward-looking portfolio is the continued focus of ATC Group," Ingo Zimmer concluded.
More: www.atc-aviation.com More : www.grupopfs.com
Geoffrey