A slower than expected June is being followed by a busier mid-summer for global air freight with signs, that rates out of some Asian origin hubs are now picking up, writes SkyKing.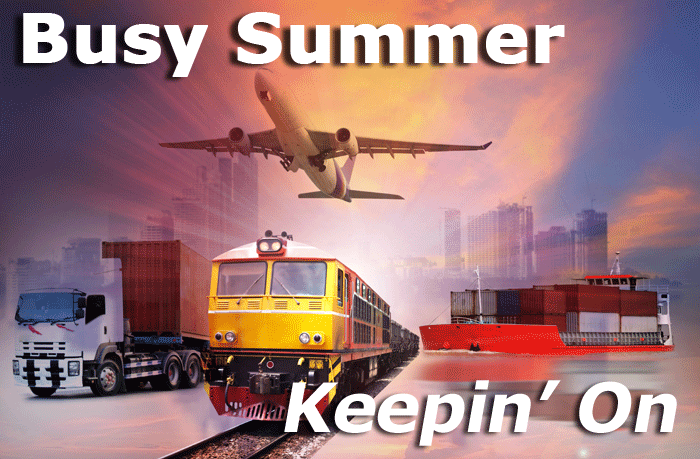 Late July Surge

According to Freightos, in late July, as container freight rates were starting to surge ahead of the peak ocean shipping season, air freight rates remained, stable for a third straight week although "promotional pricing is finally taking off".
"Most years, promotions start in the early summer," reported the freight digitalization specialist. "That's because airlines return larger planes to Europe and add more flights catering to the increased passenger demand. That boosts air freight capacity too, but at a time when demand is weak.
"There weren't any promotions earlier this summer - with tighter capacity than previous years, there was no need. However, they finally kicked off two weeks ago, when several big airlines began promotions."
Freightos said general and express rates on 26 July on the China-U.S. lane were in the $2.90-6.0 per kg range, on China-Europe they were fluctuating between $2.80-6.0 per kg, while on on Europe-U.S. the range was $1.60-3.0 per kg.

TAC August Space Squeeze

TAC Index had more specific lane pricing details, with Hong Kong – Europe rates up to $2.88 per kg on 30 July, a gain of 5.1% week-on-week, but Hong Kong – North America rates down 2.8% to $3.90 per kg.
In the first week of August, space tightened ex-China and rates were slightly higher ex-PVG, while the Hong Kong-U.S. lane was picking up but no backlogs were evident, according to Flexport.

Viet Rate Rise

Ex-Vietnam was a different matter. "Rates continue to increase as demand, particularly to the U.S. continues to rise. Demand ex-Vietnam to the U.S. East Coast is especially high. For any shipments with a strict deadline please request express service," the U.S.-based forwarder advised.
Flexport also predicted rates from Italy to the U.S. would increase during the August summer holidays and reported that ex-U.S. rates were climbing with space into South East Asia and Mainland China "very tight ex-LAX".

Expectations Sky High

"Air cargo expectations are still high for the second half and into the end-of-year peak season as the strong demand seen in the first six months is expected to continue," it added.
Despite the rapid volume expansion experienced by air freight stakeholders last year, 2018 has still managed to yield healthy year-on-year cargo growth on most trade lanes and, although the myriad threats posed by the U.S. administration's tariff war could impact trade flows later in the year, the outlook remains strong.

Carrying Movement Forward

A host of forwarders' second quarter results noted improving air cargo volumes and returns, so it came as something of a surprise to many when global volumes of air freight as analyzed by WorldACD revealed little year-on-year growth in June.
"It had to happen one day, or rather one month," said WorldACD's latest report. "June 2018 was that month: for the first time in two years, air cargo's worldwide volume growth stagnated as the year-on-year increase for the month was a mere 0.4%."

Hardly End Of Days

As WorldACD noted, however, it was hardly the End of Days given that the first half of 2018 had yielded impressive growth of 3.7%. "Our industry is clearly divided when it comes to the prospects for the second half of 2018," it added. "On the one hand, we read optimistic prognoses from some of the big forwarders, based mainly on what they see as a continuing capacity squeeze. On the other hand, people get worried about the future negative effects of the trade policies - real or only tweeted - of the unpredictable man in the White House."


Take Another Look

As a result, concluded WorldACD, June results may not be the best indicator for the rest of the year, although it also noted that business from Asia Pacific to the other regions declined -0.1% in June compared to a year earlier, and air cargo from the origins Africa, Europe and the Middle East also contracted.
With reports so mixed as to what impact tariffs had on June figures – the first tranche of U.S. tariffs on U.S. goods were imposed on July 6– WorldACD also noted that exports by air from China to the USA dipped considerably in June.
"Although this market had been sub-par for the full first half year of 2018 already (-2.9% YoY), the June figure of -5.9% YoY could be indicative of a worsening climate between the two economic powerhouses," it added, although it also made the valid point that China to Europe was also negative in June (-2.9% YoY).

Polish Up Your Crystal Ball

"Who is to tell what results will be reported for July onwards, when the first tariff increases may start to bite. To us, the world of air cargo looks fairly uncertain at the moment: for once, to predict the future it may be just as helpful to read the tea leaves or to gaze into a crystal ball."
Another risk also looms over the second half of the year for air freight, at least for those active in U.S. markets.
As previously reported in FlyingTypers, the repercussions of the new electronic logging device (ELD) mandate for trucks alongside driver shortages continue to impact air cargo providers. "Higher trucking rates, delays, and even modal switches are some of the negative consequences for air cargo," said Flexport.

Hit The Road Jack

With the 2017 capacity constraints for air freight still fresh in the minds of forwarders and shippers and many looking for guaranteed uplift space throughout the year or chartering their own planes, the squeeze in 2018, at least in the U.S., could well come on the roads.
Booking capacity early will be vital in Q4.
SkyKing