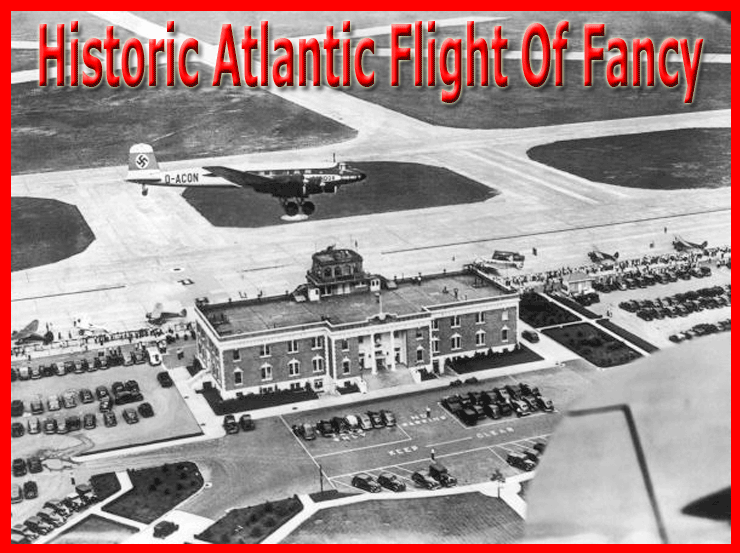 This past Saturday marked the 80th anniversary of the first non-stop transatlantic flight of a land-based passenger aircraft to New York.
Landing at Floyd Bennett Field in New York City on August 11, 1938, just before 16:00 hours local time, a Lufthansa four-engine Focke-Wulf VI 200 "Condor," registered D-ACON & christened "Brandenburg," arrived from Berlin having flown 4,100 miles (6,000 kilometers) non-stop across the Atlantic in 24 hours and 57 minutes, at an average speed of 164 MPH (263kmh/h).
Condor's inaugural flight arriving at Floyd Bennett Field

PAN AM WAKE UP CALL

The flight caused a sensation, sent shock waves around the world, and scared the hell out of Pan American Airways, which had already established the first commercial air service to Europe utilizing a puddle-jumping flying boat, the Sikorsky S42 aircraft.
The first Pan Am flights went from Port Washington, New York, to England via Shediac, New Burnswick, and Botwood, into Foynes, Ireland, and onto Southhampton.
In winter those flights operated across a southern route from Norfolk, Virginia, to Europe via Bermuda, and the Azores into Lisbon where they landed on the Tagus River.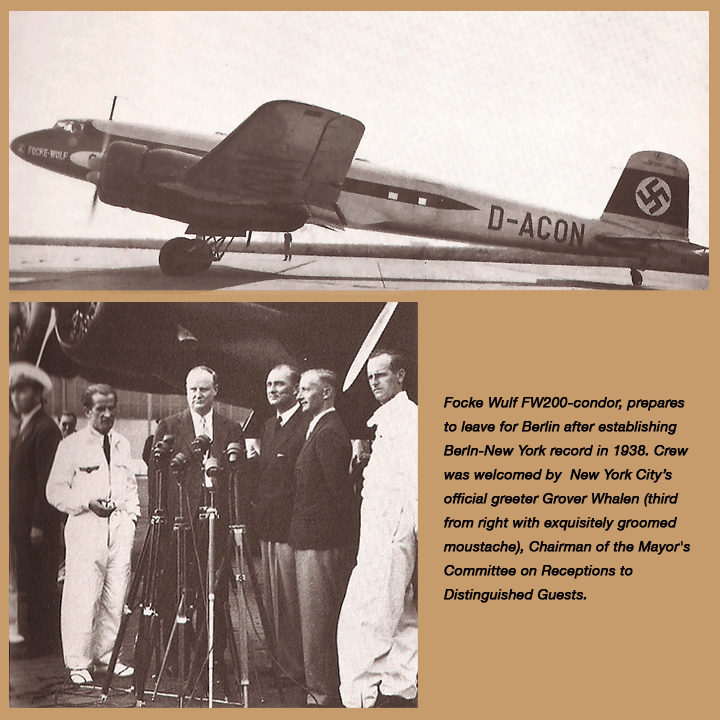 FW200 VERSUS B314

But by 1938 Pan Am had bet the airline on a dozen 100-ton flying boats from Boeing—B314s, which it planned to launch from Port Washington to Europe in 1939, and then move over to La Guardia Airport in New York City in 1940.
The B314 carried more people (46 versus 23) and was a sound-deadened, luxurious first class ride, but it was a giant lumbering vehicle that operated low and slow compared to the FW200. It's not unfair to say that the FW200 was like the 1938 version of the fast-moving Concorde, whereas the B314 was like every other slow-go aircraft cruising the skies.
Of course, WW II ended the high adventure and further development of commercial air services, and by 1945 Lufthansa was out of business altogether.
But during the conflict, both aircraft served—the B314s as the only long-range aircraft in the USA arsenal at onset, and the Focke-Wulfs in various transport and other wartime duties in Germany.


FINNAIR ORDERED FW200S

We will never know how the rivalry between B314 and FW200 might have panned out, although just imagining the possibilities 80 yeara later is delicious.
The order book for FW 200s was building at the dawn of trans-Atlantic flight.
For example, Finnair ordered the FW200 as early as 1941, anticipating services to New York from Helsinki.
To generate interest, handmade display models of the first AY aircraft were actually part of the Finland Pavilion at the 1939 World's Fair held in Flushing Meadow, just near LaGuardia Airport in New York City.
For its part, Germany had withdrawn from the World's Fair in 1939 after Poland, and with the war looming any effort to further market and sell FW200s on the international stage was lost forever.
But undoubtedly the FW 200 and its later, more developed versions would have booked orders from U.S. carriers including rival TWA, if not Pan Am itself.

THE TWA SCENARIO

TWA would have been an especially intriguing customer for the FW200 as the carrier was still five years away from owner Howard Hughes' move to operate the Lockheed Constellation.
It's worth noting that less than one month before the Brandenburg's arrival at Floyd Bennett, on July 14, 1938, Howard Hughes landed at the field after flying his Lockheed 14 around the world, setting a speed record for that journey of 3 days, 19 hours, and 17 minutes.
How the 1939 World's Fair (in reality, a mega tradeshow) scenario might haveimpacted not only Pan Am but also the developing airline business can only be imagined.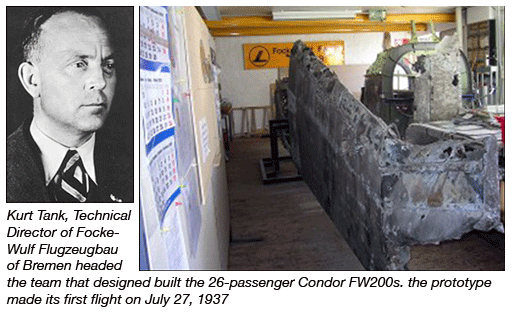 RETURN FLIGHT ALSO SETS RECORDS

After its historic flight to New York City, which included a grand ride for the crew all the way down Flatbush Avenue through Brooklyn to Manhattan, the return flight of Brandenburg to Germany on August 13, 1938, took 19 hours and 47 minutes at an average speed of 205 MPH (330 km/h), riding the ever-sweet tailwind from New York.
Later in November, Brandenburg flew from Berlin to Basra, Karachi, Hanoi, and Tokyo in only 46 hours and 18 minutes, but on the return flight D-ACON ran out of fuel and ditched in the ocean near Manila.
The 26-passenger Condor was designed, under the leadership of Kurt Tank, technical director of Focke-Wulf Flugzeugbau of Bremen, and the prototype made its first flight on July 27, 1937.
Alas, today there are no FW200s left in the world, although the remains of one that had ditched in 1942, were discovered in 1981 at the bottom of a Norwegian fjord near Trondheim.
In 1999, the plane was salvaged by volunteers and the German Museum of Technology in Berlin, but broke apart while being lifted out of 60 feet of mud and water.
Undaunted, the aviation enthusiasts, shipped the remains of the FW200 home to Germany.
A retired Airbus engineer named Guenter Bueker (left) lead the restoration. To complete the project, parts from another downed FW200 recovered atop Kvitanosi Mountain near Voss in Norway were used.
Although it will never fly again, the beauty pictured here is destined to be situate in a place of pride at The German Museum of Technology.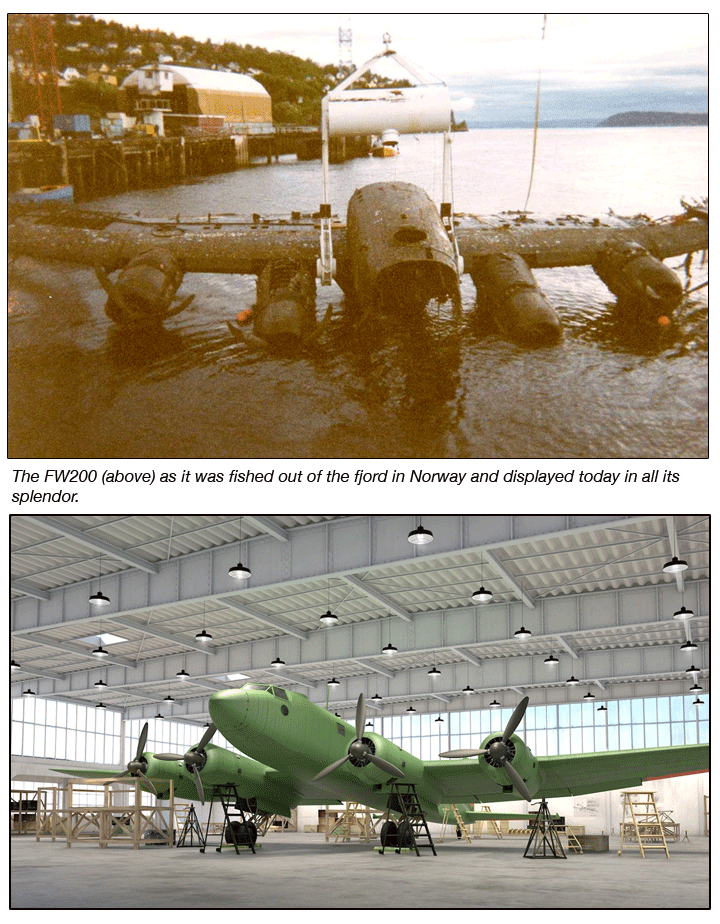 TOUCH AND FEEL

The only B314 experience left in the world is at Foynes, Ireland, where the Irish National Air Museum has lovingly and faithfully recreated a section and interior details of "The Yankee Clipper," attached to the museum's main building.
Geoffrey/Flossie