Vol. 17 No. 50

Monday August 13, 2018
"The highlight for United Cargo in the first half of 2018 was the continuation of the trend that began in late 2014, when we emerged as the clear leader among U.S. carriers in tonnage carried and revenue.
"From January through June, our ton miles increased just over 6 percent while our revenues increased nearly 19 percent," declares United Cargo President Jan Krems.

The Natural At United Cargo

Jan Krems has brought to United Cargo twin plus-factors: an extensive air cargo management career and an impressive intellectual background.
A native of Oss, Netherlands, Jan is married with two children and speaks five languages, including his native Dutch.
A glance at his advance toward the upper reaches of air cargo professionalism reveals gradual, measured progress: a swelling know-how gained at a deliberate pace, like nature itself. Natura non facit saltum, say the scholars, advising that nature (i.e., maturity) makes no leap; in nature things change gradually.
Jan is a force of nature.
Of all the people you have ever met in this business, Jan Krems is a natural for the sort of air cargo work required of him.

Trending Upward

"We're quite proud of another ongoing trend: our volume growth continues to exceed the 36 key worldwide competitors measured by WorldACD.
"Demand growth continued to be strong in the Asia Pacific and Latin regions, although the pace of growth slipped a bit from North America and EMEIA," Jan pointed out.


Giving Credit Is Natural

"Of course, we never forget that this success stands on twin pillars.
"First, there is the outstanding performance of our Operations teams. United achieved the best second-quarter on-time departure performance in the company's history, and our Cargo Operations team continues to deliver the consistent quality our customers demand.
"Next, there is the personal quality of our customer service provided by our Sales Team and support staff.
"Anyone who heard me speak on this subject," Jan insists," knows my opinion that United has the most talented and experienced Sales Team in the business.
"Just as important is that every team member shares a commitment to exceeding our customers' expectations every day."


The Switch Is On For Cool Cargo

"Reviewing results for specific products and commodities, our TempControl service for pharmaceuticals, healthcare material, and other substances needing temperature-sensitive shipping continued to expand in every region.
"While Europe and the U.S. continue to predominate in the value of exported pharma, percentage-wise our fastest growth in TempControl is in Asia-origin business.
"We're also experiencing strong growth in pharma imported into the Asia Pacific."


Pharmerging Opportunities Worldwide

"With the quality reputation of our TempControl service, and UA's position as the leading U.S. carrier to and from the Asia Pacific, we are well-positioned to contribute to the health of China's people and to the populations of other 'pharmerging' countries in the region.
"Along with our nonstop focus on quality, I believe TempControl shippers appreciate our drive to continually add to and upgrade our packaging and service options."


Sonoco Thermosafe Is A Gas

"The latest example of that effort is the global lease agreement with Sonoco ThermoSafe we announced just a few weeks ago, which enables TempControl customers to lease ThermoSafe's PharmaPort 360 smart active shipping units from us.
"TempControl customers also value our ongoing investment in the human resources needed to ensure our service consistently meets their needs."


Field of Dreams For Pharma

"United has fielded a dedicated team of pharma business experts in primary export countries around the globe, and plans are in place to steadily expand these teams.
"Since life sciences logistics grows and evolves at such a rapid rate, it's essential that we have specialists in continuous communication with all participants in this supply chain to keep our service relevant and valuable."


The Body Electric

Prior to his ascent to the position at United, Krems spent three years as president of the Americas for Air France-KLM.
Working out of Chicago in that job, he was an easy attraction for the folks at United.
Krems had come to regard KLM as his lifetime employer, and he was ardent in his loyalty to the airline.
While he is especially vocal in his praise and affection for his team at United, Jan also stands up for a small group of KLMers who, he said, had a profound impact on his development as a true professional: Jacques Ancher, Jan Meurer, Enno Osinga, and Bram Gräber.
Given his heartily expressed warm feelings toward KLM, his reasons for accepting United's invitation are simple and direct.
"I decided the time was right to make a change. No regrets, either.
"KLM was a great company to work for, and so is United."
No doubt at United Cargo, Jan has caught lightning in a bottle.
As he continues as top management his decency and humanity, coupled with expertise and exuberance, will help generate opportunities up and down and all across the global United Cargo offering.

The Joint Is Jumping

"A substantial contributor to our success in 2018," Jan Krems smiles, "is our joint venture with ANA Cargo.
"ANA and UA just celebrated the two-year anniversary of the cargo joint venture, which began in July 2017 with eastbound service from Japan to U.S. and Canada.
"We added westbound transpacific routes from the U.S. and Canada to Japan to the JV scope in February 2018, and in late May added eastbound transpacific routes from Japan to Mexico."

Expanding Networks

The UA-ANA cargo JV network now includes 377 nonstop flights a week to 16 destinations and further flight and truck connections within Japan, U.S., Canada—and now Mexico.
"Turning toward Europe and our second JV, in early May we reaped the reward for an enormous amount of effort, energy, and skill from a multitude of United and Lufthansa Cargo team members when we launched the first phase of the UA-LH Cargo joint venture cooperation.
"Since then, we have gradually extended the scope of our JV by adding more direct and transfer routings between the U.S. and Europe to the joint network."


Ach du lieber Lufthansa!

"The UA-LH joint venture route network is already providing greater flexibility and time savings to customers, and we expect the fully implemented JV to encompass approximately 1,500 new weekly route combinations and approximately 600 additional direct connections per week between the U.S. and Europe."

Even More To Come

"Beyond 2018, we are looking forward to developing many more expansion opportunities for our JV network and we're also evaluating specialty products for possible future inclusion in the JV."

2018 Straight From The Shoulder

"The longer I'm in the air cargo business—more than 31 years at this point—the less faith I have in my ability to make accurate predictions.
"It's a challenge even in years when we don't have to weigh the impact of the trade tensions looming over the second half of 2018.
"Factoring in that uncertainty, plus the fact that trade growth has slowed to where capacity is growing faster than volumes, leads us to expect more moderate gains in demand into the fall.
"Our conversations with customers have us hopeful for another positive peak season—with gains perhaps less substantial than we enjoyed in 2017.
"The headwinds are undeniable but, even if they slow down growth a bit, we're optimistic that the overall positive trend will continue into 2019."
That's Jan Krems, brother!
Geoffrey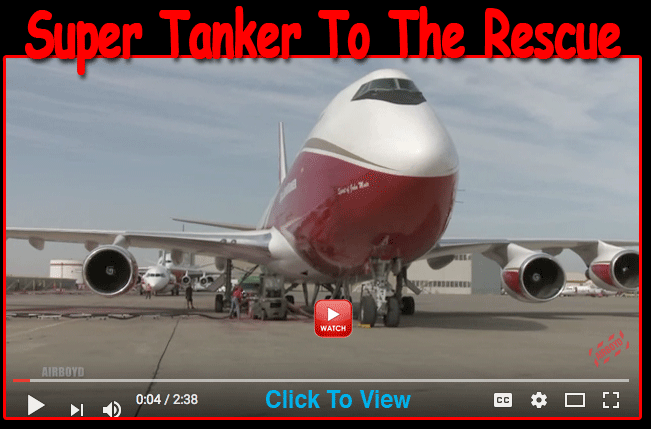 It had to happen . . . Having served Japan Airlines for decades, the venerable B747-400 has found another life—not in air cargo, but converted into a tanker that fights fires and saves lives in the western United States.
In 2018 California is experiencing its fiercest forest fires in history.
Yosemite Park is closed as the state is burning north to south. From Klamath National Forest to the Los Angeles metro area, several fires are consuming an area larger than New York City.
Elsewhere in Colorado, fires are also out of control.
Enter the Global SuperTanker, AKA "The Spirit Of John Muir," a privately owned rescue aircraft based in Colorado.
The Global SuperTanker dwarfs any other method of delivering either water or fire suppressant. It is able to carry up to 19,200 gallons at close to 600 mph.
https://www.youtube.com/watch?v=ygXto9jdQP0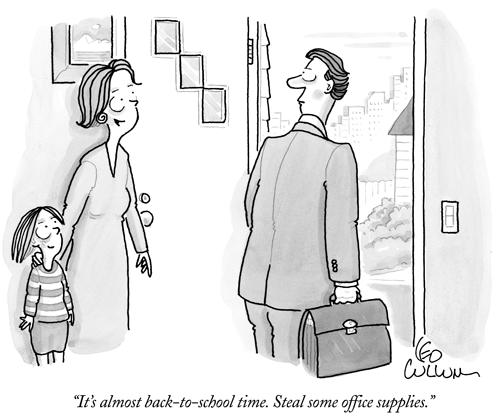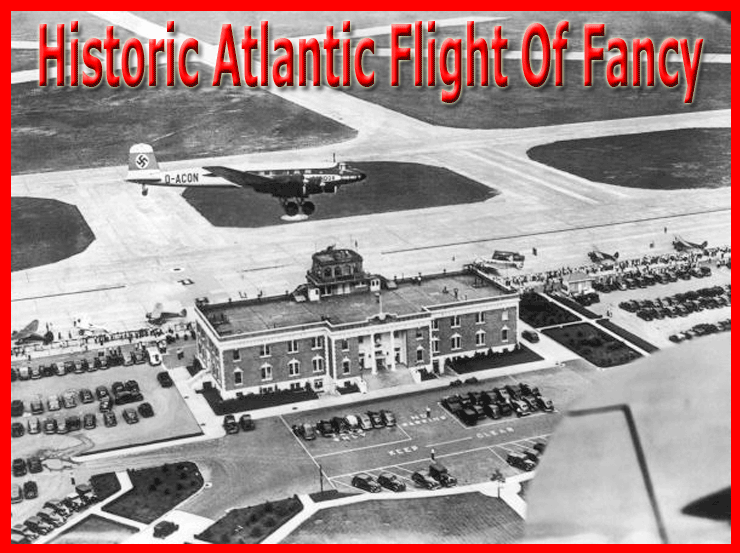 This past Saturday marked the 80th anniversary of the first non-stop transatlantic flight of a land-based passenger aircraft to New York.
Landing at Floyd Bennett Field in New York City on August 11, 1938, just before 16:00 hours local time, a Lufthansa four-engine Focke-Wulf VI 200 "Condor," registered D-ACON & christened "Brandenburg," arrived from Berlin having flown 4,100 miles (6,000 kilometers) non-stop across the Atlantic in 24 hours and 57 minutes, at an average speed of 164 MPH (263kmh/h).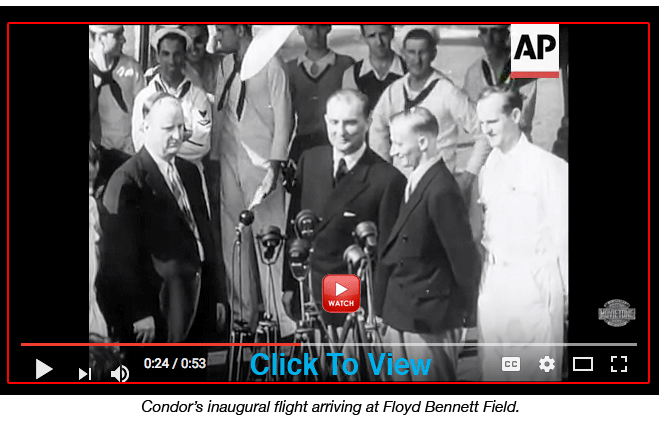 PAN AM WAKE UP CALL

The flight caused a sensation, sent shock waves around the world, and scared the hell out of Pan American Airways, which had already established the first commercial air service to Europe utilizing a puddle-jumping flying boat, the Sikorsky S42 aircraft.
The first Pan Am flights went from Port Washington, New York, to England via Shediac, New Burnswick, and Botwood, into Foynes, Ireland, and onto Southhampton.
In winter those flights operated across a southern route from Norfolk, Virginia, to Europe via Bermuda, and the Azores into Lisbon where they landed on the Tagus River.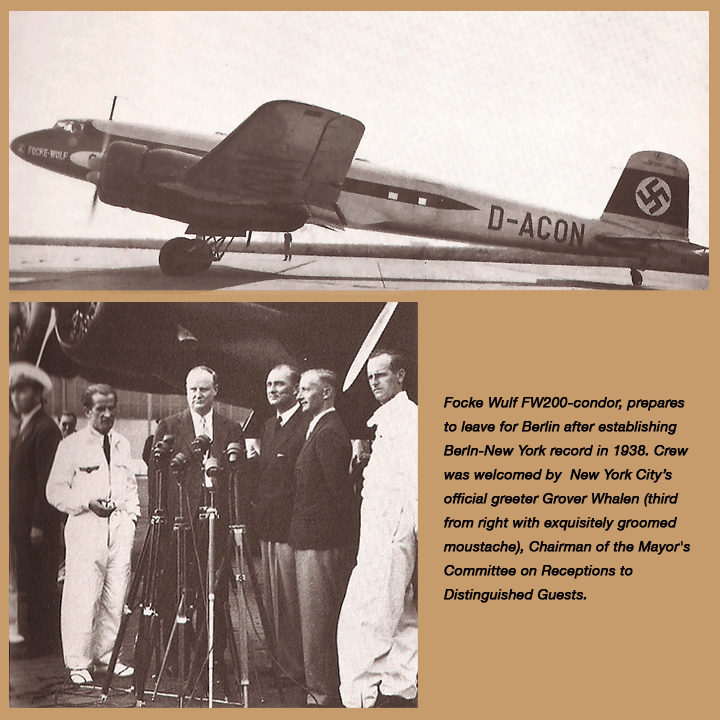 FW200 VERSUS B314

But by 1938 Pan Am had bet the airline on a dozen 100-ton flying boats from Boeing—B314s, which it planned to launch from Port Washington to Europe in 1939, and then move over to La Guardia Airport in New York City in 1940.
The B314 carried more people (46 versus 23) and was a sound-deadened, luxurious first class ride, but it was a giant lumbering vehicle that operated low and slow compared to the FW200. It's not unfair to say that the FW200 was like the 1938 version of the fast-moving Concorde, whereas the B314 was like every other slow-go aircraft cruising the skies.
Of course, WW II ended the high adventure and further development of commercial air services, and by 1945 Lufthansa was out of business altogether.
But during the conflict, both aircraft served—the B314s as the only long-range aircraft in the USA arsenal at onset, and the Focke-Wulfs in various transport and other wartime duties in Germany.


FINNAIR ORDERED FW200S

We will never know how the rivalry between B314 and FW200 might have panned out, although just imagining the possibilities 80 yeara later is delicious.
The order book for FW 200s was building at the dawn of trans-Atlantic flight.
For example, Finnair ordered the FW200 as early as 1941, anticipating services to New York from Helsinki.
To generate interest, handmade display models of the first AY aircraft were actually part of the Finland Pavilion at the 1939 World's Fair held in Flushing Meadow, just near LaGuardia Airport in New York City.
For its part, Germany had withdrawn from the World's Fair in 1939 after Poland, and with the war looming any effort to further market and sell FW200s on the international stage was lost forever.
But undoubtedly the FW 200 and its later, more developed versions would have booked orders from U.S. carriers including rival TWA, if not Pan Am itself.

THE TWA SCENARIO

TWA would have been an especially intriguing customer for the FW200 as the carrier was still five years away from owner Howard Hughes' move to operate the Lockheed Constellation.
It's worth noting that less than one month before the Brandenburg's arrival at Floyd Bennett, on July 14, 1938, Howard Hughes landed at the field after flying his Lockheed 14 around the world, setting a speed record for that journey of 3 days, 19 hours, and 17 minutes.
How the 1939 World's Fair (in reality, a mega tradeshow) scenario might haveimpacted not only Pan Am but also the developing airline business can only be imagined.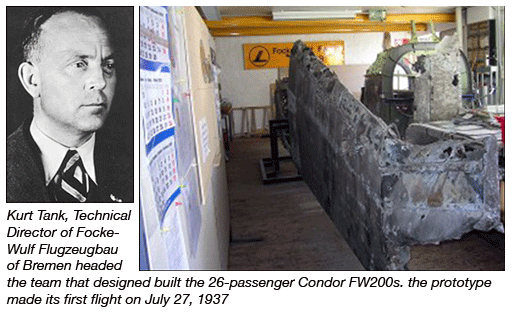 RETURN FLIGHT ALSO SETS RECORDS

After its historic flight to New York City, which included a grand ride for the crew all the way down Flatbush Avenue through Brooklyn to Manhattan, the return flight of Brandenburg to Germany on August 13, 1938, took 19 hours and 47 minutes at an average speed of 205 MPH (330 km/h), riding the ever-sweet tailwind from New York.
Later in November, Brandenburg flew from Berlin to Basra, Karachi, Hanoi, and Tokyo in only 46 hours and 18 minutes, but on the return flight D-ACON ran out of fuel and ditched in the ocean near Manila.
The 26-passenger Condor was designed, under the leadership of Kurt Tank, technical director of Focke-Wulf Flugzeugbau of Bremen, and the prototype made its first flight on July 27, 1937.
Alas, today there are no FW200s left in the world, although the remains of one that had ditched in 1942, were discovered in 1981 at the bottom of a Norwegian fjord near Trondheim.
In 1999, the plane was salvaged by volunteers and the German Museum of Technology in Berlin, but broke apart while being lifted out of 60 feet of mud and water.
Undaunted, the aviation enthusiasts, shipped the remains of the FW200 home to Germany.
A retired Airbus engineer named Guenter Bueker (left) lead the restoration. To complete the project, parts from another downed FW200 recovered atop Kvitanosi Mountain near Voss in Norway were used.
Although it will never fly again, the beauty pictured here is destined to be situate in a place of pride at The German Museum of Technology.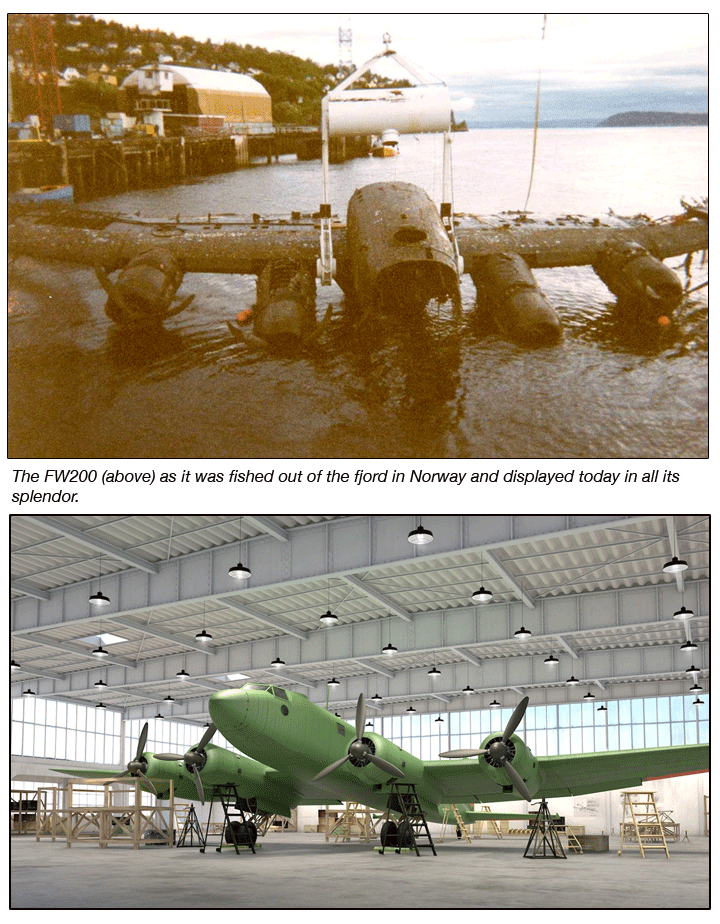 TOUCH AND FEEL

The only B314 experience left in the world is at Foynes, Ireland, where the Irish National Air Museum has lovingly and faithfully recreated a section and interior details of "The Yankee Clipper," attached to the museum's main building.
Geoffrey/Flossie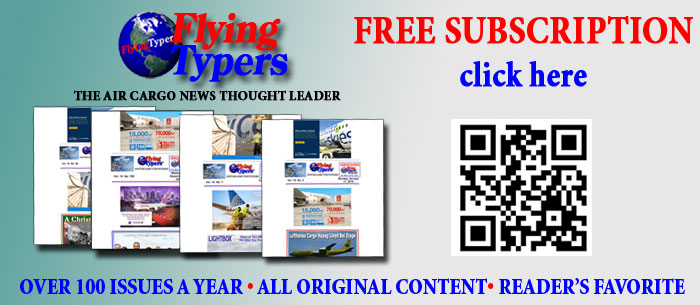 Publisher-Geoffrey Arend • Managing Editor-Flossie Arend • Editor Emeritus-Richard Malkin
Film Editor-Ralph Arend • Special Assignments-Sabiha Arend, Emily Arend • Advertising Sales-Judy Miller

Send comments and news to geoffrey@aircargonews.com
Opinions and comments expressed herein do not necessarily reflect the views of the publisher but remain solely those of the author(s).


Air Cargo News FlyingTypers reserves the right to edit all submissions for length and content. All photos and written material submitted to this publication become the property of All Cargo Media.
All Cargo Media, Publishers of Air Cargo News Digital and FlyingTypers. Copyright ©2018 ACM, Inc. All Rights Reserved.
More@ www.aircargonews.com

100% Green