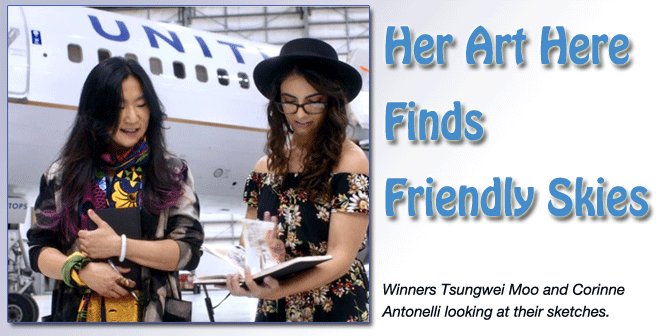 "Her Art Here" is an original spirited contest, created to find and uplift underrepresented women artists by providing them with a chance to have their work painted on a canvas like no other—a Boeing 757 plane.
The fact that UA donated a brace of arguably the most beautiful big twin-jets ever built, just makes this story even better.
While 51% of today's artists are women, less than 13% of art on display in museums is by women artists according to The National Museum of Women in the Arts.
Having their designs painted on a plane (roughly 3,666 times larger than the typical 18' x 24' canvas) provides these women with a traveling canvas that will fly 1.6 million miles a year, or 476 cross-country trips on average.


Two Works of Art Now Aloft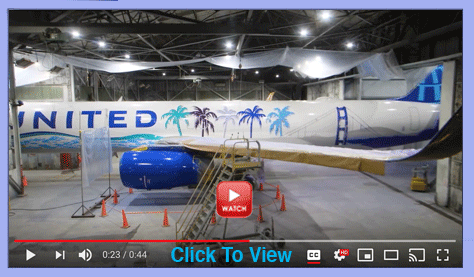 We learned of two B757 aircraft named "California" and "New York/New Jersey, that have been given the treatment by artist winners Tsungwei Moo and Corinne Antonelli.
Here the time lapse transformation of the Boeing 757 design, created by San Francisco resident and artist Tsungwei Moo, is a tribute to the Golden State where United operates two major airport hubs, one in Los Angeles and the other in San Francisco.
Her design features quintessential California imagery including sunglasses, palm trees and the Golden Gate Bridge. Tsungwei's creation was also shaped by her personal journey. The talented artist grew up in Taipei before emigrating to San Francisco 14 years ago aboard a United flight.
"It's truly a dream come true!" Tsungwei Moo exclaimed.
"The vibrant colors, sunshine and subject matter make it California.
"I could never imagine one day my art will be displayed on a United Airlines plane which brought me to the United States.
"There are no culture borders in art and it doesn't matter my status as an emigrant female artist.
"This plane has its mission now, to bring more joy into people's life, connecting people and uniting the world through experience art," she said.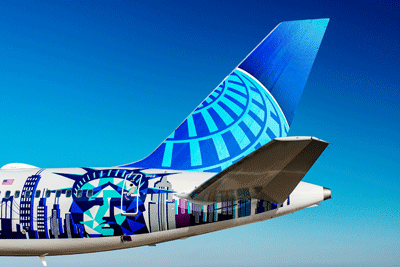 New York/New Jersey

"It still feels like I am dreaming!" said Corinne Antonelli, who created New York/New Jersey (empennage pictured here.
"I have seen the design on paper countless times, but now to see it, at its full scale in the physical world, there are no words to describe how proud I feel.
"My goal as an artist is to have people experience my art rather than just view it in a gallery, therefore having it displayed on an airplane has certainly been the most rewarding feeling I've ever experienced in my art career," Corrine declared.