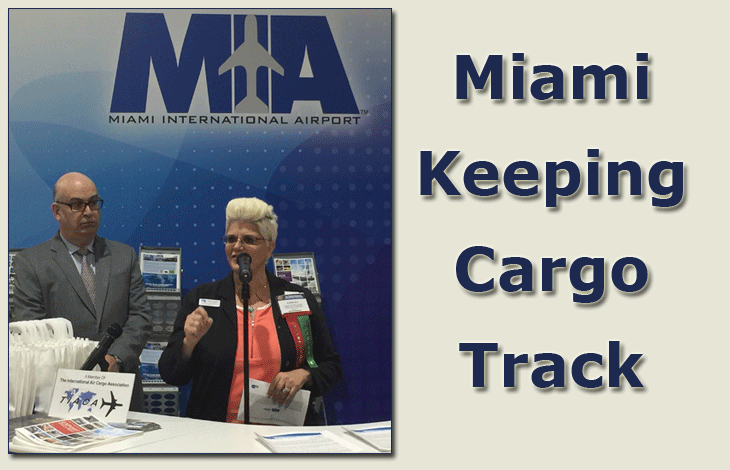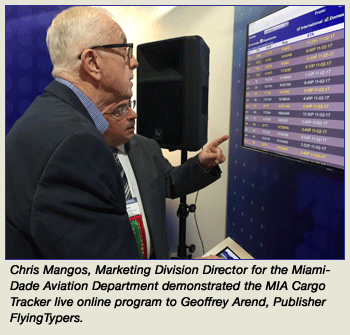 An interesting number popped up at Air Cargo Americas. It was revealed that air cargo originating from and destined to MIA has an annual commercial value of $57.3 billion.
Of course, air cargo people are used to hearing that. Although tonnage tends to be minor as compared to ocean, total value of shipments is always disproportionately on the side of goods shipped by air.
But for Miami the numbers are even more startling, with air cargo representing 92 percent of Florida's total air trade value and 40 percent of the state's total (air & sea) trade values.

Metro Dade Debuts Flight Tracker
On Thursday, November 2, Miami-Dade Aviation Department debuted its new, live online MIA Cargo Tracker in a demonstration at Air Cargo Americas. Aviation Director Emilio T. González and Florida Customs Brokers & Forwarders Association Executive Vice President Barbara Pimentel presented, with the first users of the MIA Cargo Flight Tracker in attendance.
"MIA is the first U.S. airport to launch the web-based cargo flight information display system, which allows cargo shippers, freight forwarders, customs brokers, and logistics providers to easily view real-time cargo flight information on their mobile device while they are on the go," Mr. Gonzalez said.
"Cargo Tracker offering real time information is expected to save the local cargo industry valuable time and fuel costs when coordinating shipments at MIA."