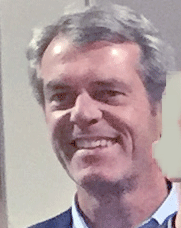 Above All These Are Some Great People.
When it comes to being practical while also being Dutch, Jacques H.M. Heeremans has all bases covered. This long time GSA Managing Director (now GSSA) of Schiphol Airport-based Inter Aviation Services B.V. (IAS), a company he started which has remained happily independent and growing for the past 35 years, is one of the few, and perhaps only, big time handlers to employ an all-female sales force.
"It had to be," easy-going Jacques admits:
"I have six sisters and they would not have it any other way," Jacques smiles.
"We are an independent company established in The Netherlands in 1987; today we've grown to include offices at both Amsterdam and Brussels Airports.
"Our business is providing a comprehensive menu of services as General Sales and Service Agent (GSSA) for several leading airlines.
"We also offer a worldwide cargo aircraft charter service.
"Through a close association with International Air Services (IAS UAE) we also maintain a strong presence in the Middle East airfreight markets that I began 35 years ago with my partner Peter Lonsdale, covering Dubai & Sharjah and adjacent regions."
IAS covers a range of destinations spanning Europe, North and South America, South-East Asia, Middle and Far East, Australia, and Africa.
From short-haul scheduled passenger services operated by narrow-body jets through to long-range scheduled freighter flights, IAS provides services worldwide.
The list of airlines that have put their trust in IAS to handle their cargo marketing and sales includes several of the largest carriers. Backed by leading edge information technology, IAS provides administration and control of trucking, import/export handling, collection of freight charges, ramp handling, warehouse supervision, and revenue and management reporting.
The IAS family in 2022 includes United Airlines, DHL Aviation, TAP Air Portugal, Kalitta Air, Vietnam Airlines and Finnair.
"Jacques Heeremans is a great gentleman of our industry," said Jan Krems President of United Airlines Cargo.
"Jacques understands the business better than anybody.
"He is the most honest person I have ever done business with and today is also a great friend."
IAS also provides some deep-dish assistance in sales and marketing, operations, finance and IT, office management, charters as mentioned, and even overall management.
But it is the man himself that shines out and brings the kind of endorsement from people rarely seen today.
"I don't just see Jacques as an ultimate people manager," Aris Zwart, retired Regional Director CSO Air France KLM Cargo told me.
What Aris said holds true as a major plus today, post pandemic and all.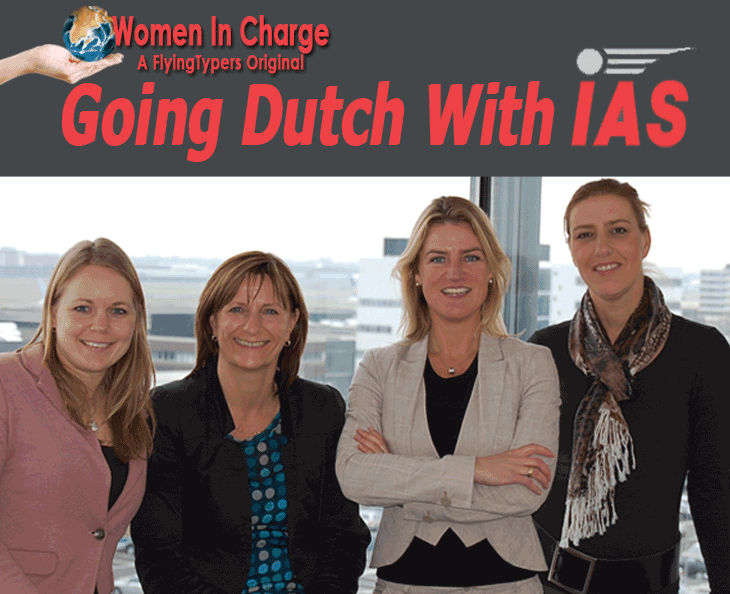 The ladies of Netherlands-based Inter Aviation Services B.V. (IAS) are Suzan Snel, Henriëtte Hoogervorst, Esther Romar, and Tanja van der Zwan, part of an exclusive, all-women sales force.


Jacques remains comfortable to be with, a "Mohair Sam" in an increasingly frenetic air cargo business.
"I know from lots of people who worked for Jacques, they loved to work for his company, but a lot for Jacques himself.
"He's easy going, open, and a great listener.
"Jacques runs his company with passion, vision, and is ahead of developments, and as such he's a real survivor.
"He will, without hesitation, advise his industry friends, even if they are competition.
"For the industry as such, above all within the Netherlands, I would give Jacques the honor of calling him our rock," Aris Zwart said.
Strong words and a crowning endorsement, especially as a GSSA and every other part of what makes life, love, and our air cargo industry worthwhile, is being so closely connected to others.
"I guess I am 'old school,'" Jacques said. "But am young enough to still want to build our business and make new partners and friends along the way."
Asked how he has kept things fresh for 35 years, Jacques answer is immediate:
"I am the Managing Director at IAS, but IAS is not important, is my feeling.
"Rather we exist as the sales and service department of everyone we represent.
"We do the job and are totally open book in all of our dealings.
"We all like what we have chosen to do for our living, so everything at IAS is on behalf of our clients.
"I would say our longevity and the trust of our loyal customer base confirms our business philosophy," Jacques said.
"It has not been easy. The COVID challenged all of us and gave new meaning to the words when the going gets tough, the tough get going," Jacques said.
"But we have always experienced fairness and decency with the airlines who often during tough times work very closely with us so that we can all continue to deliver the highest quality of service and make a profit," Jacques Heeremans said.
Geoffrey/Flossie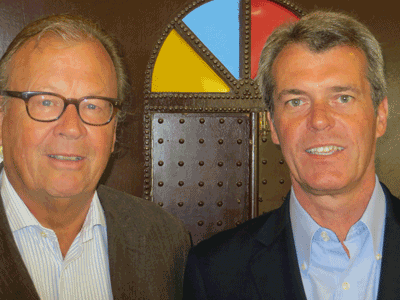 A Postscript . . . The thing you like right away about Jacques Heeremans, aside from his gracious easy-going manner, is that while we were talking we came across our old friend Jan Meurer.
Jan, as our regular readers might recall, is one of the outstanding airline executives and air cargo people that we have had the privilege to know and be friends with during our 50 years on this beat.
Jan was part of Jacques Ancher's All Star team at KLM Cargo during the 1980s. He went on to distinguish himself even further at that carrier, even during years when the airline was experiencing major cut backs and retrenchment.
But often Jan and Jacques, two outstanding cargo people are collaborating while expanding their friendship.
Jan said this about Jacques:
"Jacques Heeremans, my friend for over 35 years is an entrepreneur pur sang. A great person with a very strong feeling for the human touch. He is liked by so many people!
"Jacques has built IAS to a quality company together with his great team. A GSSA company which has a remarkable reputation. I congratulate him and the team with 35 years Inter Aviation Services. I am proud to have been his business partner and friend for so many years."
Sitting with them brings back both memories, but also the excitement of the way ahead for air cargo, the way it ought to be.
These two always take the time to examine change whilst considering every possibility.
Geoffrey