At the recent Air Cargo Europe in Munich, Germany this past week, we got a chance to speak to John Lloyd, Director of Cargo at Virgin Atlantic Cargo, about what is new in business and abroad, and why it was important for Virgin Atlantic Cargo to attend Cargo Logistics 2011.
"The sheer size of it makes it important to be here," said Mr. Lloyd.
"It's not just around air freight; the whole logistics side is involved as well, so we have our suppliers, customers and sales partners here.
"It's a great place to get the brand out, and there's also a lot of meetings so we can catch everyone in the same place."
The common questions faced by everyone in the industry stem from issues of technology, fuel prices and security measures.
On the technology front, Virgin Atlantic Cargo has just released a brand new, in-house computer system, something that Virgin had fallen behind with but was now taking the opportunity to play catch-up on.
"It's given us a big leap forward in our technology offerings.
"We had an old legacy system, so we've been through the same thing that Swiss and Emirates and others have been through.
"What it's going to allow us to do this year is make a big leap forward with things like Cargo 2000, CPS, and GF-X online booking.
"The last year was an absolutely fantastic year for us.
"Looking forward this year, it might be slightly more challenging as we're seeing what is happening with the economic market, but we're still pretty confident," said the Director of Cargo.
While technology may seem like the biggest challenge the industry faces currently, given its quicksilver ability to change and grow and create new demands, the reality is that with fuel prices rising and security measures tightening, there are other factors which present difficulties for everyone in the air cargo industry, and Virgin Atlantic Cargo is no exception.
"One of the big things that is coming is the increase in regulatory constraints that has been put on our whole industry, whether it's security or customs," said Mr. Lloyd.
"While obviously necessary, they do have a very big impact on staffing, overhead and the resources that need to be applied.
"It is quite a big burden.
"On the security front, the main thing we're pushing for is harmonization across various different regulatory bodies.
"At the moment there are some big differences that make it difficult for everyone to compete on a level playing field."
And speaking of competing on a level playing field, we took the opportunity to broach a subject that many at the show were whispering about, yet all seemed to openly avoid questioning: How does Virgin Atlantic Cargo respond to those who say that the sexy (and sometimes risqué) Virgin advertising campaigns reflect negatively on women in air cargo, or at least make it harder to be taken seriously if one is a woman?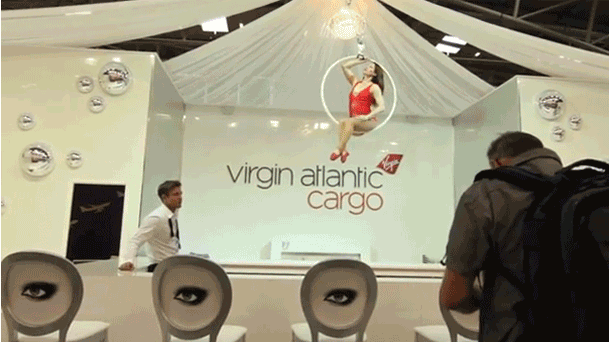 Mr. Lloyd was gracious and honest in his response, which helped to elucidate the real reasons behind the campaigns, and apologized if anyone was ever offended.
"Sometimes we push the boundaries, which is something Virgin Atlantic has been about right from the start.
"Generally, the company is now maturing and growing up, so we need to 'class our act up' a little bit, but I apologize if anyone was ever offended.
"We are trying to get that balance between the serious industry – we're extremely serious about what we do – and the ability to inject a little bit of fun into it.
"It's not at all meant to be negative towards women.
"As we discussed earlier, with things like the regulatory constraints, sometimes it can get a bit serious and you just want to lighten things up a bit," said Mr. Lloyd.
And we couldn't agree with the Director of Cargo more – sometimes things do need to be lightened up, especially in an atmosphere where restrictions are being laid out left and right.
But at the same time we wondered, as many wondered, whether it was indeed appropriate to include scantily clad women on trapeze and men with their shirts open in a booth at a major cargo convention. There's having fun and then there's exploitation, and this seemed to veer closer to the side of being exploitative – both to the Virgin people in diminutive clothing and to the intelligent, well-read people subjected to the sight.
Perhaps it is time to grow up and 'age up' the advertising so that adults won't be turned off by the message. Getting attention is great, but at some point the negative attention becomes a reason to stop paying attention entirely. From what we heard from attendees at the show, there was a general sense of revulsion to what was being put on display that perhaps detracted from the real message that Virgin wants to send – that it is a serious business.
So while we give definite credit to Mr. Lloyd for apologizing if anything was misconstrued and promising to mature in due time, we along with others in the cargo industry will now be on watch for when that maturation takes place.
In the swampy morass of spiked fuel prices, technology overload, legislative chokeholds and devastating natural disasters, it is important to take a step back and have fun for a moment; but at the end of day, regardless of whether the men and women are equally scantily clad, the desire should be to project an image of maturity and strength that does not exploit women or men and gives the audience confidence about your business.
Flossie Arend/Emily