Under the title "The FIATA World Congress (FWC) will provide an opportunity for logistics to become greener" FIATA interviewed Dr Soo-Yong Shin, PhD and Associate Research Fellow of the Korea Maritime Institute, in preparation of the next FWC to be held in Busan, South Korea between 11th and 16th of September 2022.
In the instructive interview professor Shin declares: "The recent incidents which happened in South Korea, such as diesel exhaust fluid crisis, semiconductor shortage, food supply problems, have shown the importance of supply chain risks for the global society. As a result, the importance of shipping logistics is increasing in this field. In particular, the current port-to-port business of shipping may require new changes to business models and in some instances some have resorted to integration, standardisation, and digitalisation." These are themes that are also recurrent in the following interviews published by FIATA and set the tone for their Congress in Busan.
This is the first World Congress for FIATA after the insurgence of the COVID-19 pandemic in 2020. We all hope that numbers in Busan are high and success is guaranteed. As I have personally witnessed the immaculate preparation for the bid, which is no mean feat for a FIATA association member to undergo when it bids to organise the FIATA Congress, I have to say that – oh, boy – if one association has earned its success the hard way through endurance and perfect organisation, well that is KIFFA.


That does not mean in any way that others are not au pair with them, but these guys were put to test like nobody else, save perhaps the Belgians, who were obliged to postpone the Brussels event, if not more brutally, on equal terms. Well, Brussels will be next after Busan, two long years after the time it should have been. Kudos to KIFFA and FORWARD BELGIUM W.E.B. for their endurance and their unflinching faith in the future of their industry. This is one of the signs that this industry means business, probably in a way that other industries have yet to discover.
Uniting for global solutions is the "title" of the Busan Congress and I find it extremely effective after a period when we have been divided, separated and forlorn in our landlocked countries. When I say we, I mean everybody, but in particular freight forwarders, who are the very essence of anything global and international as you can see it. No forwarder works alone, we are naturally bound by our businesses to work together across the oceans, to build a unique way of looking at the world, with a supreme understanding of everyone else's differences and yet the necessity to step in, to continue providing a service in spite of the differences, over and above all difficulties and, we have learnt in recent times, even terror, disease and war. Against all odds, we do it and even manage to thrive one way or another. Now the public has greater awareness of the importance of our work, a little bit more than before the pandemic, and that is a positive development.


So what is green about the forwarder? How can freight forwarders "provide an opportunity for logistics to become greener" as FIATA suggests? More in general, why do we think Green coincides with Good?
In 1295 Pedro Calderon de la Barca affirmed that "el verde es el color principal del mundo, y que a partir del cual surge su belleza." i.e. green is the prime colour of the world, and that from which its beauty arises. In 1790 Johann Wolfgang von Goethe added another layer of green paint to the building by asking his Mephistopheles to state: "Grau, theurer Freund, ist alle Theorie, und Grün des Lebens goldner Baum", in other words: all theory, dear friend, is grey, yet green is the golden tree of life. That was Faust, one of Goethe's masterworks.
Perhaps not all our practitioners are familiar with Calderon de la Barca, Goethe, or Lucretius for that matter, but . . . When I ended one of the longest position papers ever written by CLECAT with the words of De Rerum Natura, many of CLECAT's members were puzzled, but those who liked it prevailed and in the end the Commissioner could not get us off his record perhaps because of the unexpected spread of Latin emerald verses splashed on his desk. I could never tell whether his acceptance was due to his embarrassment to decline an unorthodox document or an earnest interest in Latin culture. One way or another Lucretius helped us convey the message that logistics could serve its purpose in a way that that was ever changing, but the change was to go along with its nature and not against it.
With all the greenwashing we have been served in the last couple of decades, no wonder some in the younger generation start getting impatient and God knows how right they are and how wrong has been the policy within so many institutions, even when there was no further excuse, when everything was adamantly clear already: we should have changed our behaviour, we must change now, if it is not too late, and we must adopt greener practices in everything, not only in logistics, as FIATA appropriately suggests. It is good news that FIATA, the uppermost representation of the freight forwarding community, is revamping its plans to earnestly adopt an environmental approach in business.
Whilst Calderon de la Barca was writing in a period by and large similar to ours in terms of climate, Goethe was experiencing what went down in history as the "little ice age", which – on anecdotal evidence – contributed to producing the famous Stradivari violin. Allegedly the wood in Stradivaris was made denser than usual by the cold weather in Italy, which allowed for those violins to take on a sound that nothing else has ever had before or after.
For sure though our temperatures during last century not only went fast back to the level they had when vines and olives were grown in England in the middle ages, but are now climbing to quickly reach a level that this planet has perhaps just witnessed once, in the beginning of its creation, at a time when we were not there to keep records. Since the 2nd half of last century the increase has been exponential and the reason is well known: human activity.
Logistics is not the only area where greener policies can make a difference, but it is one where some measures to introduce a more environmentally conscious modus-operandi can have a knock-on effect. Let me try to explain how. Through practical tuition received from my members, one of the first things I learnt when I landed in Brussels many years ago was as follows: there is no trade and international commerce without logistics and without logistics the goods remain unsold, nothing more than worthless junk. It is true that logistics does not produce anything material, but it does produce one big thing: added value. If we use value concept to support greener practices in the conditions the goods are made available to consumers, little by little things can improve. There is so much waste in packing and shipping, despite the progress made in recent years, that the person who finds the way to minimise this excess can turn it into gold. Maybe we can use logistics to influence the process little by little. We need much greater efforts that this elsewhere, but it is something. We have become more efficient when it comes to using our digital instruments and that can assist in finding the best solution in terms of environmental performance.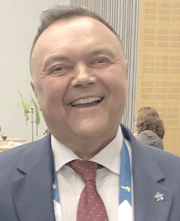 In the same document distributed by FIATA to promote the Busan Congress, President Ivan Petrov (right) seems to think along these lines of thought and declares: "COVID-19 created a more digital environment, with challenges for logistics companies. FIATA stands as a support system in this 'new normal', by boosting its digital strategy. Shortly after the launch of the paperless FIATA Bill of Lading, we will make our mark on the global stage. Forwarders are the architects of the entire supply chain – of last-mile solutions, documentation and goods exchanges and of terminal operations – which make the transport process possible. Showing our face in Asia at this stage of the supply chain recovery after the pandemic will be a very positive opportunity for new business in the region." In other words, the future will be greener, as well as more digital, according to FIATA.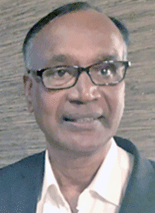 Our friend Krishan Chelliah, (left) Chairperson of the FIATA Congress Committee, observed that "the KIFFA Organising Committee, headed by Mr BJ Kim, will welcome our members and non-members to join us at the modern sea port city of Busan, to share updates, listen to the industry and trade experts, and international organisations that will share their expertise for the trade and market sentiments after the pandemic and the impact on the logistics industries of the Russia-Ukraine war." As I was saying our services run without interruption, come rain or shine, and in recent times, even worse . . .
Mr. B.J. Kim, who chairs the KIFFA Organising Committee and recently served as FIATA Vice-President said that "in this time of rapid political, economic and societal change on an international scale, the 2022 FWC can serve as an opportunity to predict the future and direction of the logistics industry." It is an ambitious statement, but please do not forget that Busan ranks as sixth-largest port by cargo volume worldwide and the second-largest transhipment port, so all credentials are there for that statement. If you combine this with the earnestness that I have personally witnessed in the preparation, the presence of personalities that command attention, I have no doubt that this will be a unique experience.
So let's hear it from those who are making it: go to Busan and take part in this Magical Mystery Tour!
That was one of the Beatles' masterpieces. Sweet memories, remember? It was 1967, we were just enjoying what went down in popular history as the "summer of love". I had just turned fifteen and the world was there, up for grabs. That was probably a unique time in my life. I was sitting on the rocks of the pier looking at the Liguria sea, trying to listen to "Hit Parade", a music programme then popular with youngsters. That was my modest, local version of the summer of love. All of a sudden my ultra-small Sony trannie crackled the intro of "A whiter shade of pale". Listening to the immensely unfamiliar – at least for me at that time – music coming from the minuscule rattling musical box, I thought that it was the most heavenly music in the world. I thought I had fallen in love with a blue-eyed girl with long hair, black as raven, with the same blueish glimmers that you see in the raven's plumage. Contrast between the blue eyes and the black hair was in keeps with the contrast between the music I was hearing on the radio and what I was expecting to hear, but that was the summer of love and love knew no bounds in 1967.
2022 can be your own 1967 if you believe in it: roll up for the mystery tour and fly to Busan! Get involved in the atmosphere our friends in Korea have prepared for us and enjoy their special welcome. Rest assured there will be no rattling musical box, Korea is on top of any technology, so you are in an experience that will know no bounds. Fly to Busan and discover its green magic under the aegis of FIATA!
Marco L. Sorgetti