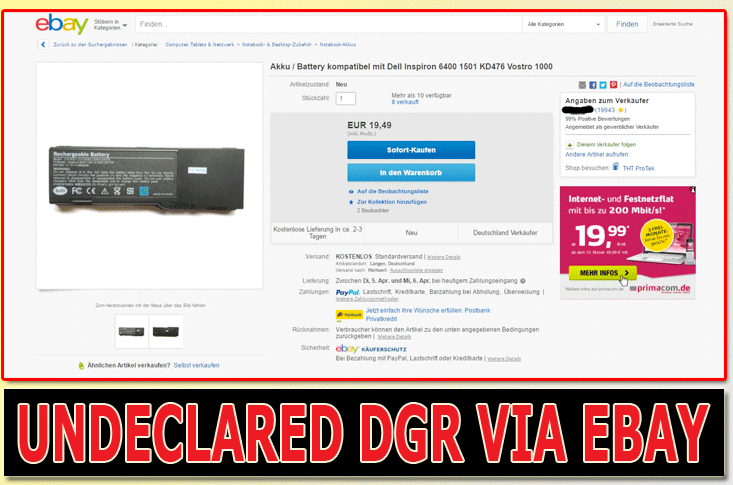 Internet auction platforms certainly have changed the way we live, value things, and sometimes even how we make a living.
Instead of letting that old laptop or cellphone gather dust, you sell it on e-Bay. And when you need a spare part for your 1950's to 1980's collectible car, chances are it can be found for less on e-Bay or some other auction platform—hence the e-Bay slogan, "if it exists in the world, in can probably be found on e-Bay.
For many people, e-Bay is a part of their daily life, generating additional income from selling and cutting down on expenses by buying for cheaper via the global village store.
There is, of course, nothing wrong with that, quite the contrary.
Truth be told, e-Bay has also done an admirable job of rooting out sales of counterfeit brand items, pirated software, and illicit goods, like products made from protected species (such as ivory or some fur coats), weaponry, explosives, and other merchandise that require strict controls.

Here's The DGR Rub

There seems to be one problem auction platforms such as e-Bay may have overlooked:
The simple fact that many articles and substances in daily use fall under the Dangerous Goods Regulations/Hazardous Materials Regulations and may not be shipped without proper training, packing, marking, labeling, and documentation.
In particular, it should be noted that by law international mail allows almost no Dangerous Goods shipments (with the exception of certain diagnostic specimens either classified as UN 3373, Biological Substance Category B, or Exempt Human/Animal Specimen, Dry Ice as a coolant for UN 3373, certain so-called "Excepted Radioactive Packages" with extremely low limits [Certain smoke detectors fall under that classification] and, only where so authorized by the Civil Aviation Authority of the departure state, "small" Lithium metal batteries [containing 2g of aggregate Lithium or less] or Lithium-Ion batteries [100 Wh or less].)
These small batteries are never permitted in airmail shipments unless installed in equipment, e.g. a laptop or tablet computer with a battery installed.
And while e-Bay offers plenty of information regarding the "e-Bay code of conduct" with the dos and don'ts for both sellers and buyers, including the regulations applicable to certain merchandise and unwanted or illegal practices, the one issue that gets little to no coverage is the ever pressing topic of dangerous goods.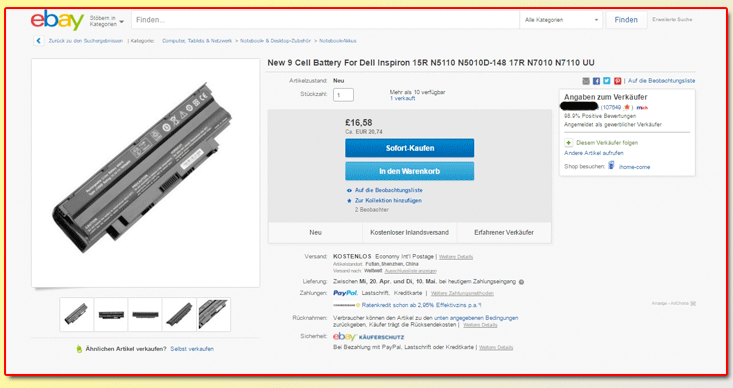 DGR In The Mails Actioned

In a notable joint effort of the very proactive HKG CAA, Hong Kong has created an outreach to local forwarders and GHAs. It follows that carriers including CX have seriously minimized movement of undeclared DG in airmail and cargo as well as in baggage carried by some merchants to neighboring countries.
Also in the UK, strict application of the regulations and a trained workforce of the UK Royal Mail (which permits certain "consumer commodities" in domestic mail) have considerably reduced the problem of undeclared DG in mail and courier services.

Gefahrgut Lost In Translation

While it is true that China and Hong Kong sellers are much less omnipresent on e-Bay with offers to ship cheap, undeclared DG anywhere, Germany still seems to be a safe haven for anything not in compliance.
We found a used steering wheel with airbag for 85 Euros (US $96.81) plus 6.90 Euros (US $7.89) offered with shipping by DHL Small parcel.
There is no indication that the 6.90 Euro shipping price includes approved packaging for Class 1 explosives, which is what an airbag contains. While it is true that most airbags can be reclassified to Class 9, that reclassification would require such packaging to withstand the so-called bonfire test, which realistically, in this price range, is highly unlikely.
Lithium Ion batteries of any kind—for laptops, cellphones, remote controls—are also available for much less on e-Bay than in brick-and-mortar stores.
The German seller "handywest" has 153,640 transactions and offers free shipping by Deutsche Post. "Elektrocell-com" from Vienna also ships for free by Deutsche Post, as does seller "mobilschleuder," who is offering a Li-Ion battery for Samsung Note III said to be "Original"—for 9.99 Euro (US $11.38). The same battery sells on the German Samsung website for 29.90 Euros. A non-representative test purchase of 12 aftermarket batteries for the Samsung Galaxy 4 by the German computer magazine c't in 2015 yielded that 12 out of 12 batteries were fake and thus never underwent the required safety testing.
E-Bay's website has plenty of information about shipping. But to make the point again, the term "Gefahrgut"—German for "Dangerous Goods"—is nowhere to be found.
And one thing you will not find in any German post office is posters or fliers informing the public about the hazards of shipping DG by mail—quite understandable, since none of the staff has been trained in recognition and handling of undeclared DG.
As mentioned earlier, e-Bay has been quite proactive to find—and eliminate—auctions with pirated software, Lacoste polo shirts for 3.00 Euros and Louis Vuitton handbags for 25.90 Euros have been eliminated. Undeclared Dangerous Goods seem to be not on their radar.

All Talk?

While the talk at this year's IATA WCS centered on willful, non-compliant shippers, the risk their goods mean to air transport, and how to identify and eventually prosecute them, here is an exercise that should help illustrate the scope of the DG challenge:
Just go to www.ebay.de, and surf the site.
Your move.
H. Amburger