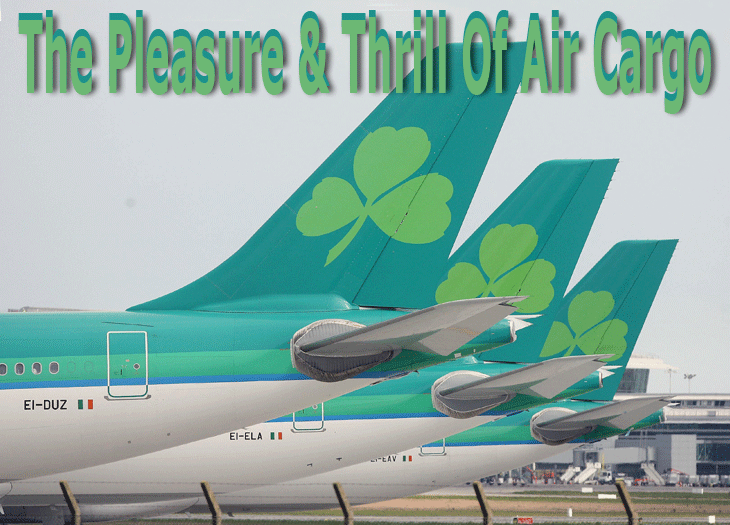 Ask Anne Marie MacCarthy, Global Sales Manager Aer Lingus Cargo (based at Dublin Airport), how she came to choose a career, and the answer is refreshingly simple and straightforward.
"I needed a job," she says with a smile that reveals her pleasure and thrill at being a top cargo executive at the Irish national airline.
"Actually, one day I just went out to Dublin Airport and started knocking on doors of the freight forwarders and airlines, and even Irish Customs, looking for work.
"So I have spent my entire working life in air cargo.
"I began as a customs runner for a freight forwarder and eventually went out on the road for that company.
"At the time, air cargo was almost entirely a male dominated business, and frankly as a woman it was a bit easier to at least get a toe in the door, so I went into sales and marketing.
"In 1990 I joined Lufthansa Cargo in sales, where I worked for seven years, ending up as sales manager for Ireland, which was a really great experience.
"One thing became immediately apparent moving from freight forwarding to airline that still holds true at Aer Lingus—no matter what happens during a shipment, the buck stops at the airline.
"After Lufthansa I was head hunted to Emery Worldwide, so it was back to freight forwarding and total logistics with a truly great company and some wonderful people."
If it sounds like Anne Marie has made a success and a lot of friends in air cargo, believe it.
But while considering the fabric, color, and atmosphere of air cargo, Anne Marie gets right down to business.
In 2012, Aer Lingus Cargo is willing and able to do business, offering a surprising list of European destinations and opportunity for some real savings every step of the way.
"From Boston, New York, Chicago and Orlando, Aer Lingus Cargo via Ireland serves Birmingham, Edinburgh, London, Gatwick, Heathrow, and Manchester, plus over 30 destinations across Europe.
"It is the ability to move via less crowded Ireland to all these destinations that offers shippers a definite advantage and opportunity to grow business, with extraordinary customer service and attention to detail," she said.
"Just last month we moved our cargo offices for Aer Lingus back to the airport at Dublin, in the same building where I started my career.
"The purpose of course is to put air cargo management literally right on top of the action, but for me the move is also a return of sorts.
"I do really love being back there."
Of course, no article about Aer Lingus can overlook the ongoing donnybrook with carrier Ryanair and LCC airlines' self-absorbed gadfly, CEO Michael O'Leary.
On June 19, 2012, Ryanair announced its intention to launch yet another bid to take over Aer Lingus at €1.30 per share, for a total of €694 million.
On June 20, 2012, Aer Lingus issued a press release stating that, having reviewed Ryanair's proposed offer, the company board must reject it and advise the company's shareholders not to take any action in relation to it.
Aer Lingus pointed out that any offer from Ryanair was unlikely to be capable of completion due to, firstly, the EU Commission's 2007 decision to block the airline's bid for Aer Lingus at the time, and, secondly, the UK Competition Commission's ongoing investigation of Ryanair's minority stake in Aer Lingus.
Also, Aer Lingus' board believes that Ryanair's offer undervalues Aer Lingus, considering the airline's profitability and balance sheet, including cash reserves in excess of €1 billion (as of March 31, 2012).
But no one doubts O'Leary will continue his quest to add Aer Lingus to his Ryanair stable.
For Anne Marie, even though business everywhere is challenging, 2012 is a time to think of new partnerships.
Willie Mercado, Cargo Sales & Reservations Manager North America, and Debbie Gaine, U.S. Cargo Sales Manager East Coast, joined our small gathering at JFK with Anne Marie.
It should be mentioned that Willie gets great credit and attention for his years of selfless service to the entire air cargo business on the U.S. east coast as President of the JPK-based Air Cargo Association.
In a world where most air cargo clubs or associations hang on by the effort and determination of a few stalwart organizers and workers, Willie has been the stand up guy for New York/New Jersey ACA for longer than anyone can remember.
We all owe Willie a lot of deep thanks for a job above and beyond, and also for the biggest one-day air cargo event on the planet, JFK Air Cargo Day, held the last Thursday of March each year.
Willie Mercado emphasized that the Aer Lingus Cargo network, which lifts consignments via A320s across Europe, is second to none, connecting from North America via speedy Gateway Ireland.
Debbie marked her 25th Anniversary at the carrier and was also celebrating her daughter's confirmation the previous Sunday.
"Boxes do speak," Debbie said of air cargo.
"In fact, at times they can even scream, with the smallest ones making the most noise.
"It is our job to make sure that we always pay attention to detail and make sure we never let the customer forget how important he or she is to us," Anne Marie smiled.
Geoffrey/Sabiha